I visited Pakistan in 2007 as then-president Pervez Musharraf's military regime was about to fall, locked in conflict with the main political parties and with the formerly compliant legal apparatus, in particular with Chief Justice Iftikhar Mohamed Chaudhry, whose judgements irritated Musharraf so much that he had him removed at one point.
One key point of friction between the president and the courts was "missing persons", civilians who had vanished thanks to the attentions of the secret services, who kept them in secret jails or sold them to the US for a bounty, ensuring a regular supply of detainees for the Guantanamo Bay prison camp, regardless of whether they were guilty or not.
On a sweltering day in Peshawar I met a former Guantanamo detainee hiding from the police and the secret services and in Rawalpindi I met the wife of a man who had disappeared and a lawyer fighting his case and those of several others. Their testimony was both moving and shocking.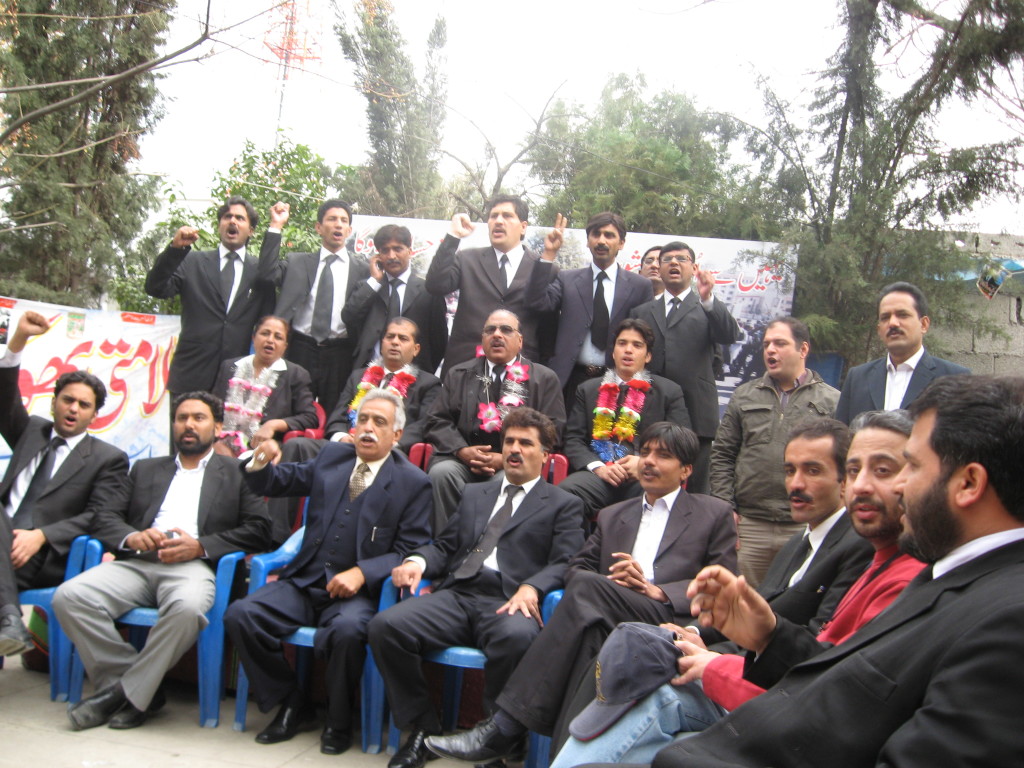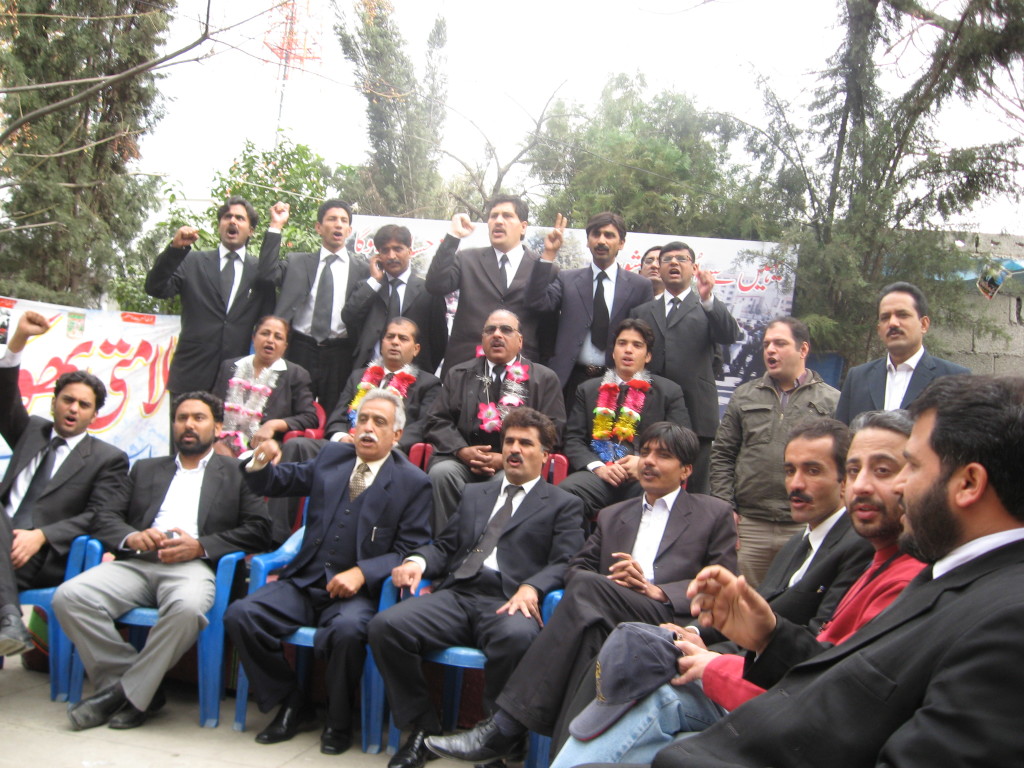 You can only meet Badr Dost by appointment, since he is trying to avoid the attentions of the Pakistani security forces.
We meet him at the family home in the back streets of the city of Peshawar. But only after one of his nephews has checked that we haven't brought unwanted company and summoned him from his hiding place.
Dost has been taking this sort of precaution since his brother, Muslim, was arrested a year ago.
Badr believes that the police would have taken him, too, if his nephews hadn't warned him of Muslim's arrest.
The family heard nothing from or about Muslim for eight months and the authorities denied that they were holding him.
An appeal to a Peshawar court finally forced police to admit that he was in jail in one of Pakistan's semi-autonomous tribal agencies and bring him to Peshawar's main prison.
They say that Muslim, an Afghan who has lived in Pakistan for 30 years, has broken an obscure law about residency in the country.
That was not the first time that he had been arrested.
After the 2001 invasion of Afghanistan, Badr and Muslim, who don't hide their Islamist sympathies, criticised the US-led operation.
Pakistani security forces picked them up and handed them over to US forces, who held them in two bases in Afghanistan, before flying them to the US's detention centre at Guantanamo Bay in Cuba.
After a year, the brothers were told that the Americans had nothing against them.
But, along with other inmates in the same situation, they were kept for another year and a half before being sent home.
His account of his detention confirms the widespread reports of abuse and torture there.
"They were kicking us with their soldiers' boots and hitting us with their fists," he says. "We were beaten and we were kept up awake for a long time. They were not allowing us to sleep and we were kept in isolation."
Inmates were held in extreme temperatures, he claims, and pornography was stuck on the walls of some religious prisoners' cells as a form of "mental torture". Dost believes that the guards went out of their way to offend the prisoners' religious feelings.
"The American soldiers, the MPs, they were searching us every day," he says. "They were searching the holy book as if we are hiding something inside, but that was not true because they have searched many, many times. They were desecrating the holy book. They were touching it, they were throwing it on the ground, they were stepping on it, they were tearing it to pieces and putting it in drums of shit in front of us."
He says that the abuse of the Koran only ended after the inmates staged a hunger strike.
On their return, the brothers published a book, The Broken Shackles of Guantanamo.
If they were expecting an apology or compensation for wrongful detention, loss of business and disruption to their family life – they were to be disappointed.
The book appeared on 3 September. Muslim was arrested – again – on the 20th.
"After eight months he was produced in the tribal area and then he was brought to central jail of Peshawar," he says. "So right now we are suing his case in Supreme Court and hopefully he will be released. But still there are head and hands who want to black him and want to put him in jail for a long time."
The "head and hands" Badr Dost fears are elements in the Pakistani state apparatus, who, as well as carrying on a dirty war against armed Islamists, when it suits them, carry on a lucrative trade with the Americans, who pay money for supposed "terrorists", who will be transferred to jails in Afghanistan or Guantanamo.
Most feared of all are military intelligence, the ISI.
"It was a business," he comments. "And they have announced if the local authorities are arresting any terrorists, so they will be awarded [for] a common man 5,000 [rupees] and a wanted man maybe millions. So even Americans were telling us that they have paid a lot to Pakistani authorities for arresting us."
For a longer version of my interview with Badr Dost click here.
"When your dearest thing, the most precious thing in the world, is taken away, what is there left in life for me?" asks Amina Janjua, sitting in a dowdy office in Rawalpindi, the military garrison town that is practically a suburb of Islamabad – or perhaps it's vice versa.
The last time she saw her husband, Masood, he was getting on a bus to Peshawar from their home-town, Rawalpindi.
He and the friend who was with him, Faisal Fawaz, never arrived at their destination.
Amina is convinced that secret policemen from the Inter-Securities Agency (ISI) spirited them off to a secret jail on suspicion of Islamist tendencies, taking their long beards as signs of fundamentalist tendencies.
Amina insists that Masood had nothing to do with politics.
"I don't want to live any more," she says. "It's just for my husband's sake that I'm fighting and this is the hope that is keeping me alive. I'm going to get him back."
Her suspicions were confirmed when a released prisoner said that he had seen Masood during his period of detention.
Amina and her three children have fought hard to locate Masood and get him released.
They camped out in front of the Supreme Court and contacted other families in the same situation.
They claim to have discovered ISI "safe houses", dotted around the country, with families living on the ground floor, while prisoners are tortured in the cellar.
"I have come to know that there are safe houses in every nook and corner of this city," she explains. "Every street is having a safe house, where apparently there is a house, normal, and a family living but underneath there is a secret house where these persons are kept and being tortured. For years now."
For an audio report on Pakistan's missing persons click here.
Over 400 cases are now going through the courts, 100 of them fought by Amina's lawyer, Shaukat Aziz Siddiqi.
Siddiqi, who is a member of the Islamic party Jamaat-i-Islami, recently won the release of Hafez Abdul Basit, who had vanished for three and a half years, detained because he has associated with someone linked to the 2003 attempts on Pervez Musharraf's life.
"His beard was shaved off, third-degree methods were used on him," he says. "Threats were also extended to him that 'we will bring your sister, your mother and all your favourite members of your family, who will be raped in front of you – just listen to the voices from the neighbouring room, that we have already brought so many ladies in this connection'."
For one month Basit was not allowed to sit, still less sleep, before being confined to a tiny, sordid cell, Siddiqi claims.
The police only admitted knowing his whereabouts after Chief Justice Iftikhar Mohammed Chaudhry told the deputy inspector general of the CID that he would be jailed himself if he didn't produce Basit within 24 hours.
The impunity with which Pakistan's secret services operate has its origins in the country's violent history and overspill from the Afghan war.
Many of the armed Islamists who would like to assassinate Musharraf were trained by the ISI to fight in Indian-occupied Kashmir.
But its latest manifestations are intimately linked to the US's "war on terror", which has led to bounties paid for prisoners, political support for Musharraf and a ten-billion dollar subsidy to the country since 9-11.
For my reports for RFI on Pakistan in 2007 and 2008 click here.
For some of my reporting from Afghanistan for RFI click here and here.
For Afghanistan in 2001 on this blog here and in 2005 here.