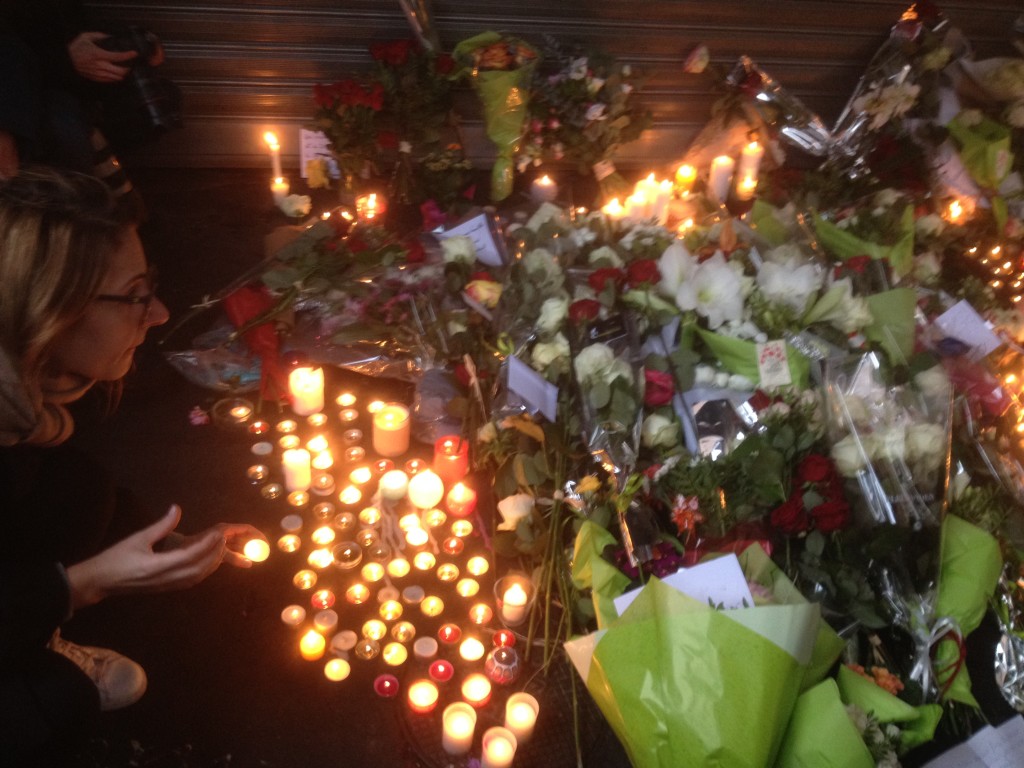 The Islamic State (IS) armed group has claimed responsibility for yesterday's bloody attacks in Beirut and Paris. Since I live in the Paris area, I'll comment on the question many people are asking – why these attacks on the French capital?
The targets appear to have been chosen by people who knew Paris well. Two teams from "crusader" countries- France and Germany – were playing at the Stade de France, the statement said, and President François Hollande was present. The attackers did not manage to mix with the crowd, however, limiting deaths to the attackers and one bystander. "Hundreds of idolaters gathered in a festival of perversity" were at the Bataclan, according to the statement, and dozens paid the price.  The other targets were in areas full of bars and restaurants, where crowds were guaranteed and where the likely victims were guilty of the sin of enjoying life in ways not approved by fundamentalists of any stripe. The statement says there was an attack in the 18th arrondissement, which there wasn't, so a member of the commando could still be at large. IS says that all its victims were "crusaders", although it obviously can't know their identities, whether they were customers of bars and restaurants, staff or passersby. Not does it know how many of the victims were Muslims, which some of them almost certainly were.
IS seems to be stepping up attacks abroad as it comes under pressure in Syria and Iraq, with the loss of Sinjar and air strikes on its positions. Shia were targeted in Beirut, presumably because of Hezbollah's involvement in Syria, and one reason for targeting France was probably its recent decision to join air strikes on IS in Syria (one shouldn't forget that the French army has been fighting jihadists in Mali and the Sahel for some time now and has intervened in Muslim-Christian violence in the Central African Republic). French leaders' statements about "acts of war" might imply that the country's military involvement will become more intense, possibly with ground troops being sent in. That might not displease IS, which wants a confrontation with "Rome" at Dabiq, to fulfil an "end-times" prophecy.
France's interpretation of secularism, as represented by Charlie Hebdo and the the public reation to this year's massacre there, as well as by measures by successive government, particularly the banning of Islamic headscarves in schools, angers fundamentalists but also alienates many Muslims, who are not tempted by violence or even Salafi-style rigour.
France has the largest Muslim population in Europe – although we're not allowed to know its exact size due to France's interpretation of secularism. A tiny minority is tempted by violent fundamentalism, partly for religious reasons, partly because of the social exclusion they have experienced in France.  The government estimates that more than 500 are fighting in IS's ranks and has boast s of almost certainly killing some of them in air strikes. Others can't get there, partly because of a clampdown on people wishing to go by the French authorities, leaving them available to murder at home. Only eight suicide-attackers were needed to commit Friday night's carnage. More attacks are entirely possible.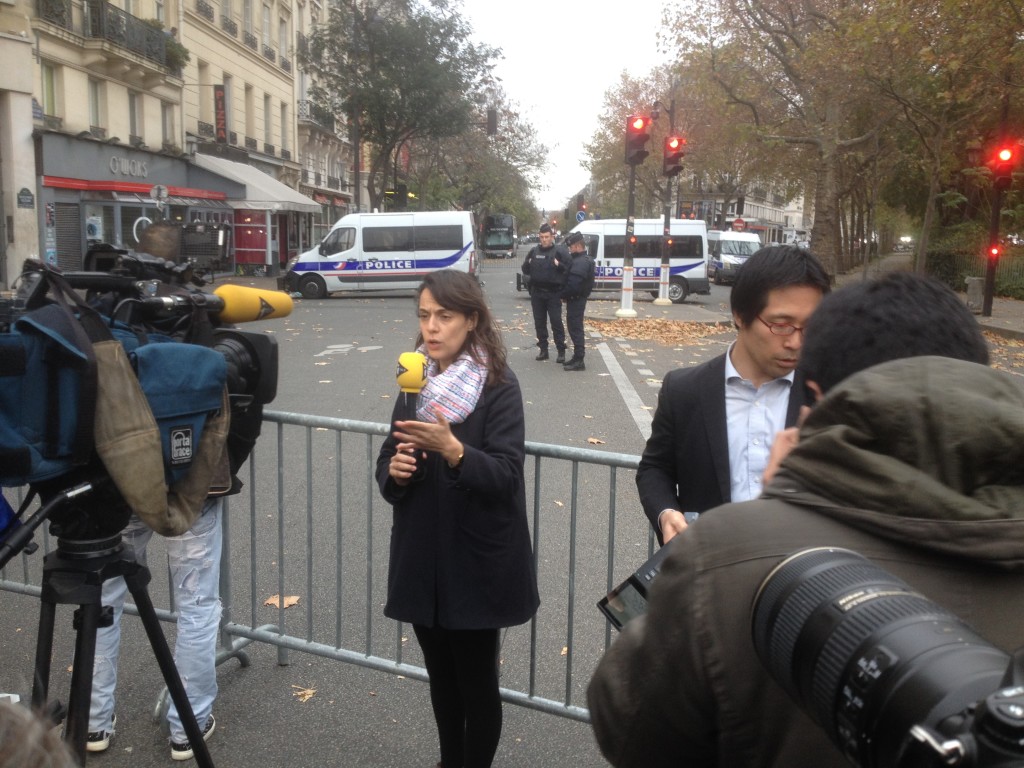 Update 17.45 Paris time
I've just visited the scenes of three of the attacks.
Despite the declaration of a state of emergency, police and military presence seems fairly restrained. There were far more TV crews that security forces members outside the Bataclan, although the scene was heavily cordoned off.
There and in the rue de Charonne, people are arriving with flowers to lay at the scene or lighting candles. Since the government has banned all public gatherings, there will be no Charlie Hebdo-style demonstration, for the moment at least, and the mood doesn't seem to be at quite such a pitch – more shock, less indignation.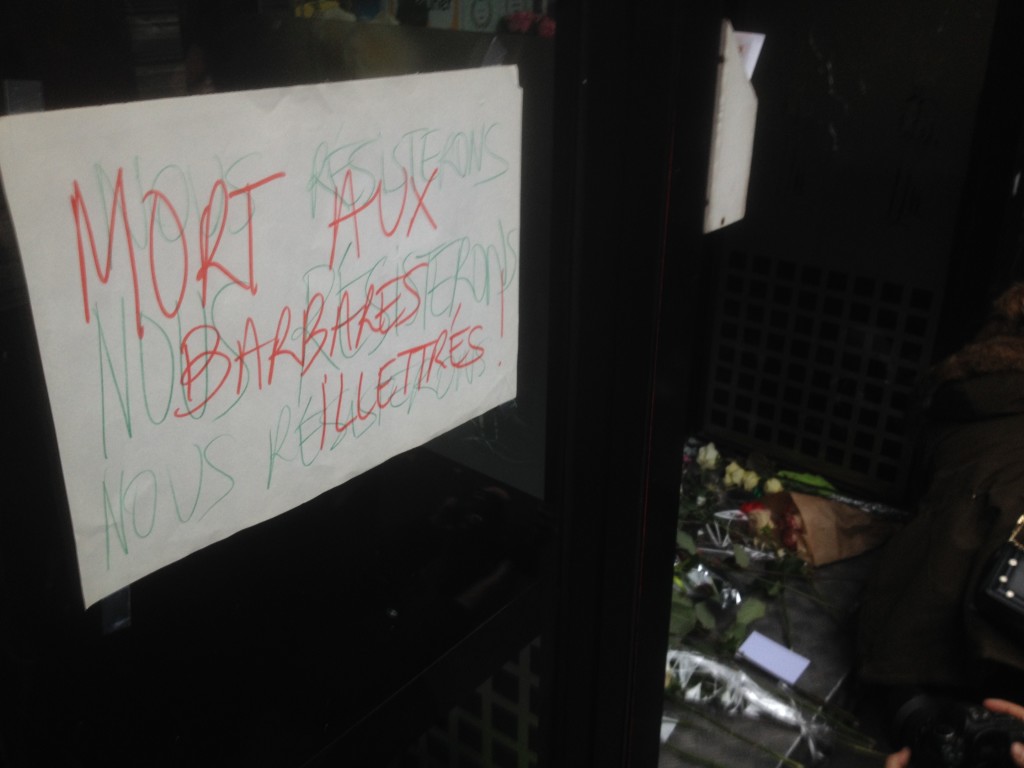 A couple of shops in rue de Charonne have hung up French flags – one also has a piece of paper bearing the #PrayforParis hashtag, a no doubt well-intentioned but curious choice given that a fair proportion of the victims and their families undoubtedly don't believe in God while the attackers invoked his name to perpetrate their murders.
So a certain amount of nationalism. The crowd at the Stade de France apparently sang the Marseillaise – but what do we sing about when we sing the Marseillaise?
Someone has stuck a rose into bullet holes in the front of Sushi Maki restaurant, next to La Belle Equipe. And, since hate engenders hate, a piece of paper bears the legend "Death to the illiterate barbarians".