Diyarbakir is the largest city in Kurdish-majority south-east Turkey. The region has seen the PKK's guerrilla war and successive governments' harshly repressive responses. I first visited the city during the 2007 presidential election and talked to political and rights activists who still had vivid memories of the dirty war, as well as the era when the Kurdish language and culture suffered severe discrimination. I returned in 2014, when a peace process was under way and the city seemed to be becoming a better place to live. Some of the improvements have lasted but this year the city has seen military repression of liberated zones and shootouts between police and the Islamic State armed group.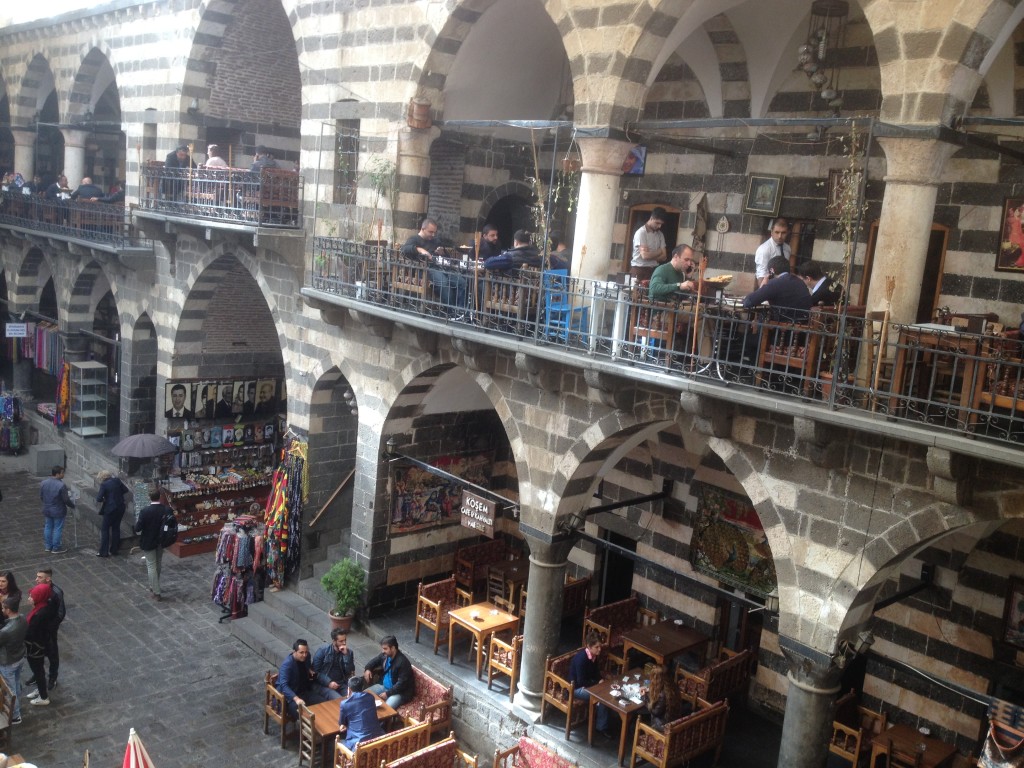 Diyarbakir, 28 October 2015
My work in Diyarbakir gets off to a slow start. I get up at 4.30am to catch the flight from Istanbul, only to find that it has been put back an hour and the airline hadn't bothered to tell me. My SMS to my fixer, Tayfun, fails to go through, so he has been waiting for an hour when I arrive … not a good start
We land at Diyarbakir's spanking new airport, which isn't actually quite ready yet. No problems on the runway but when we go to hire a car they can't give me a receipt because there is no electricity to run their printer.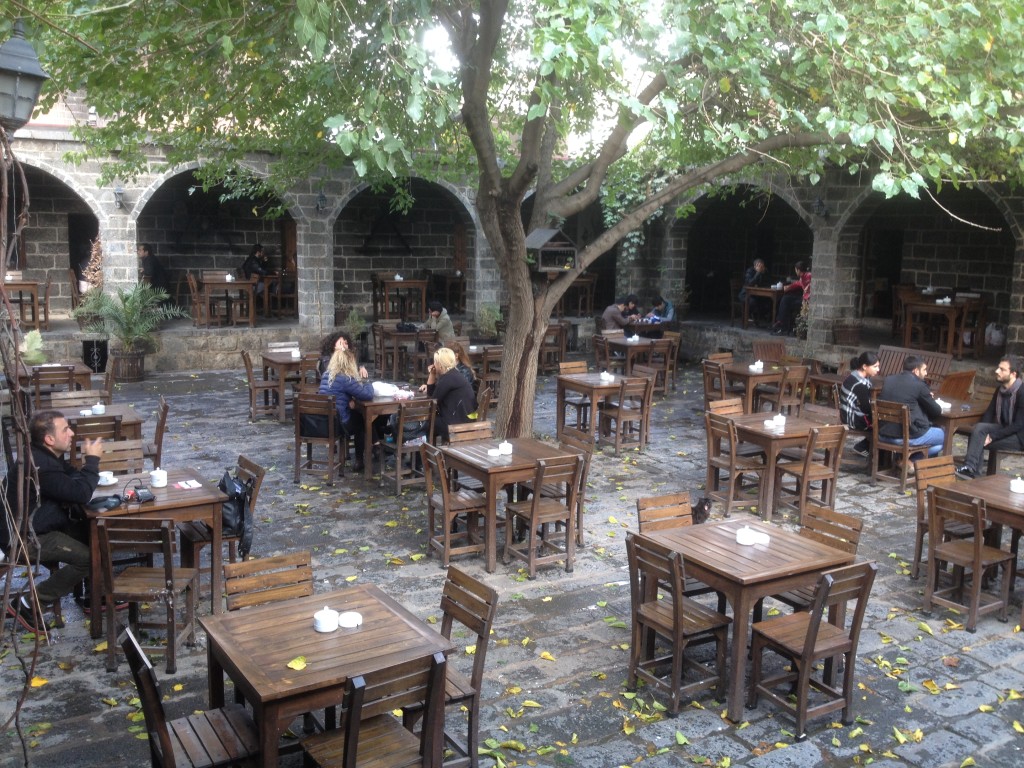 Once we start work we wait for ages in a charming courtyard café for Tayfun's contact in the left-wing, pro-Kurd People's Democratic Party (HDP) to turn up. He is supposed to introduce me to the former mayor of this part of Diyarbakir, the historic centre, and that means even more waiting.
The café is playing distinctly unturkish music, accordions feature in some tracks, meaning that if I record an interview here listeners are liable to suspect I conducted it in Paris and am only pretending to be in south-east Turkey.
After chatting for a while it finally occurs that our contact would actually make quite a good interviewee.
He is a Kurdish-American who has a Turkish name but prefers to be known as Kevin Miller. He has served in the US military and is to stand for Congress, the first Kurd to do so, but has come to Turkey for the election and its aftermath.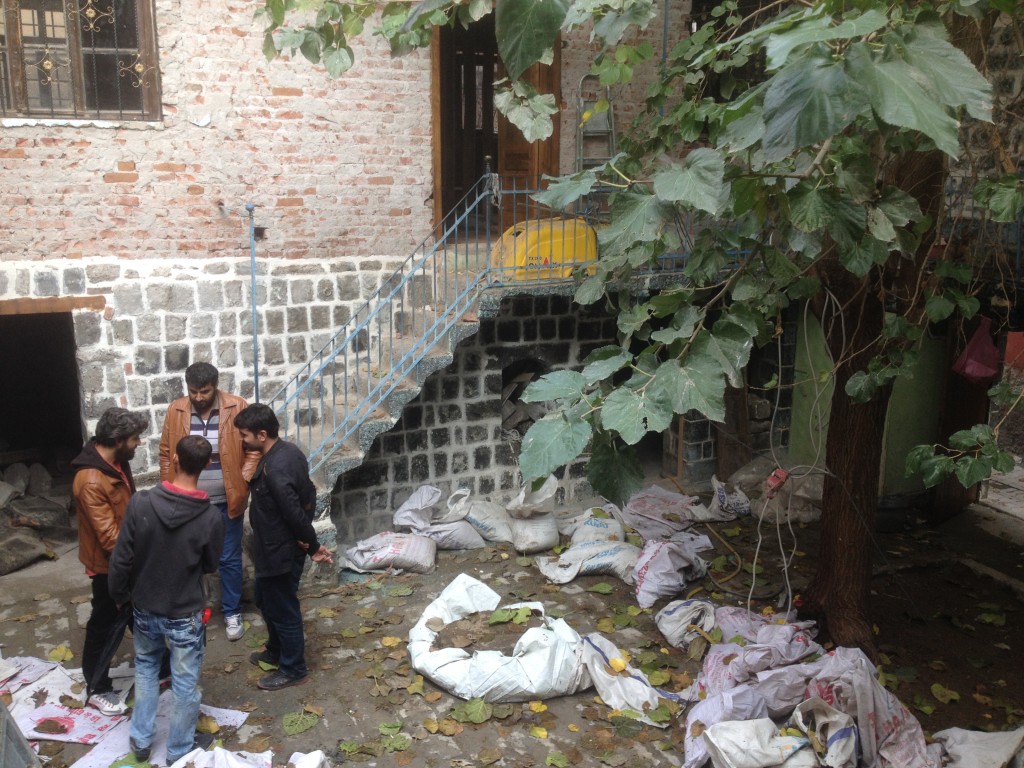 Kevin takes us to see a former Armenian house in the old city that he is restoring in order to establish a research institute. Concrete has been chipped off Diyarbakir's dark basalt and lighter stone with Armenian inscriptions and traditional wood interiors are being constructed, although recent rainfall has done some damage.
Then we take a walk through Sur, Diyarbakir's old city.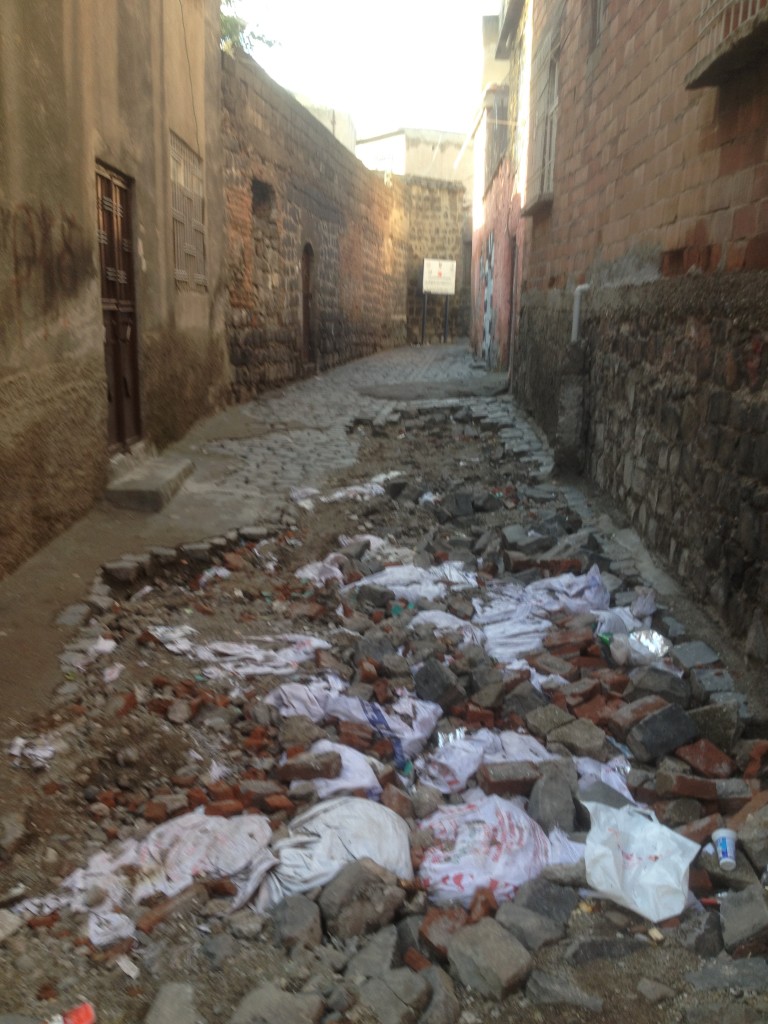 A streak of rubble scars a narrow street that joins another one that is similarly disfigured.
This is where young Kurds dug trenches and erected barricades to keep police and other representatives of the Turkish state out of a two-kilometre-square "liberated area", arming themselves with what weapons they could lay their hands on.
A Kurdish assembly was organised and sat in a historic building nearby.
Graffitied on the walls are the initials "PKK" for the Kurdistan Workers' Party guerrilla movement that has been fighting first for a Kurdish state and later for autonomy since 1978 but also "YDG-H", for the Patriotic Revolutionary Youth Movement, which a PKK leader recently admitted has escaped PKK control.
The YDG-H seems to have taken seriously a change in the line of the PKK and its Syrian allies, the YKD, that has meant renouncing Maoist-influenced centralism and encouraging bottom-up "administrative autonomy" in defiance of the state, establishing self-administer areas as the Syrian Kurds have done in the region, known to the Kurds as Rojava, that they have liberated from the Islamic State armed group and Bashar al-Assad's government.
The Turkish government responded forcefully.
Ten days ago it sent 4,500 special forces into Sur, deploying snipers and heavy weapons in the narrow streets and declaring a 24-hour curfew.
In five days of fighting 15 people are reported to have been killed and one wounded and dozens arrested.
The building where the assembly met is now a charred ruin, despite its Unesco-protected status.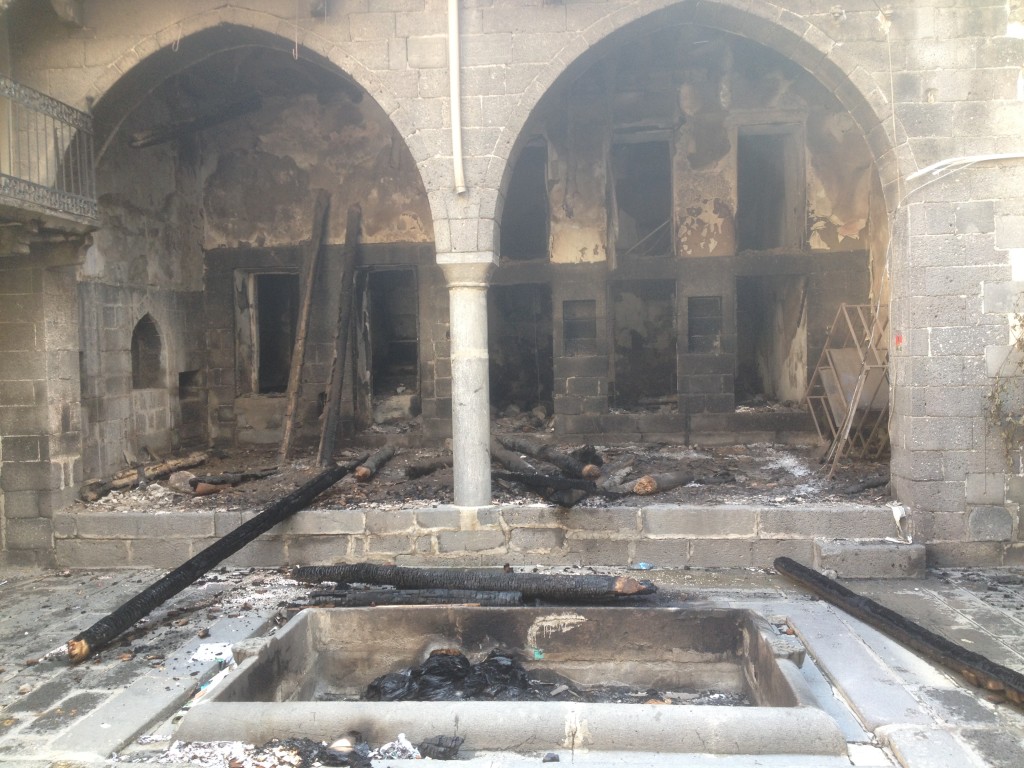 To read my account of my visit to Sur for RFI click here.
The government has used similar tactics, including the use of snipers who are alleged to have targeted civilians to enforce curfews, in the towns of Cizre, where 22 were killed, 21 of them civilians, and Silvan, parts of which are now reported to be in ruins.
We do finally get to meet the former mayor.
Abdullah Demirbas has been arrested three times, twice this year and once in 2009, and is late for the interview because he had to report to the police station.
He was in jail for eight months in 2009 and was finally released on health grounds. He spent two months in prison pending trial for "financing the PKK" earlier this year and was released after he suffered a stroke and a campaign for his release won the support of US Secretary of State John Kerry.
But he doesn't know the reason for the latest one because it was declared a state secret.
About 1,000 HDP members and 18 mayors belonging to its municipal wing, the BDP, have been arrested in the government crackdown that followed the end of the peace process with the PKK.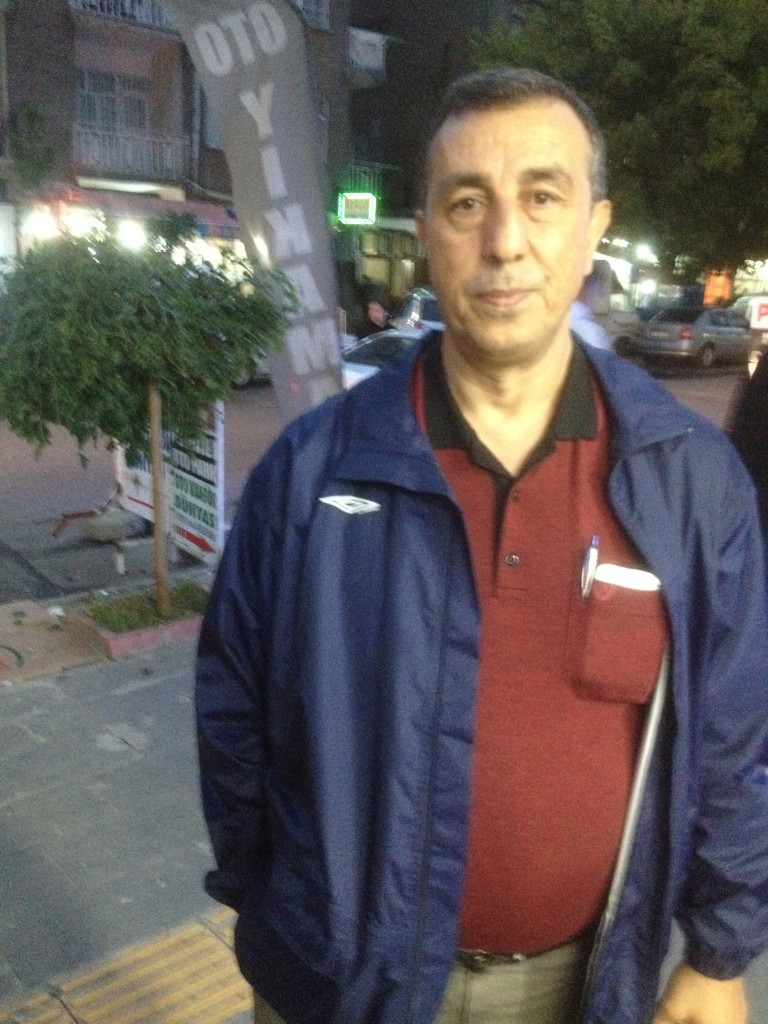 "The 7 June election result was a disaster for the government," he comments. "They didn't get what they wanted. Of course, there was a price to pay and the people have paid the price. It was the breaking of the ceasefire and the restarting of the military operation."
Demirbas accuses the government of cheating when it agreed to join US-led airstrikes on IS because it also launched air strikes on PKK positions in Iraqi Kurdistan.
Anyway, Erdogan and his friends have aided and supported IS in the past, he says, and are terrified that the areas liberated by Kurdish fighters in Syria will inspire Turkey's Kurds to emulate them.
"In Rojava the Syrian Kurdish people making democratic autonomy by themselves is not something that is wanted by this regime," he says. "Because they don't want this, everyone knows this regime is supporting [Al Qaeda affiliate] Al Nusra and IS. Many people are coming through Turkey from Europe and the rest of the world, everyone knows that they are joining this group. Despite the decision that they were going to bomb and make operations against IS with coalition forces, Turkey has attacked the PKK but not attacked IS."
To read more of my interview with Abdullah Demirbas on RFI's website, click here.
Earlier we drove out of the city centre to meet two HDP activists, Cüneyt Aslam, a youth leader, and Eyse Gokkan, of the women's group, KJA.
They, too, accused the government of complicity with IS, Gokkan stressing that the Islamists – from the AKP to Boko Haram in Nigeria – share an anti-women agenda.
"There are documents showing that the Daesh terror organisation is being supported by the Turkish government, that weapons are being sent to this organisation by the government," saidAslan, referring to IS by the Arab acronym Daesh. "The government is making an environment for this group to expand and kill us."
As we drive past one estate, I noticed Turkish flags draped on the sides of several blocks of flats, a bit of a surprise here.
These estates are occupied by police officers and their families, Miller explained.
More on my visit to Diyarbakir during Turkey's October-November general election campaign to follow.