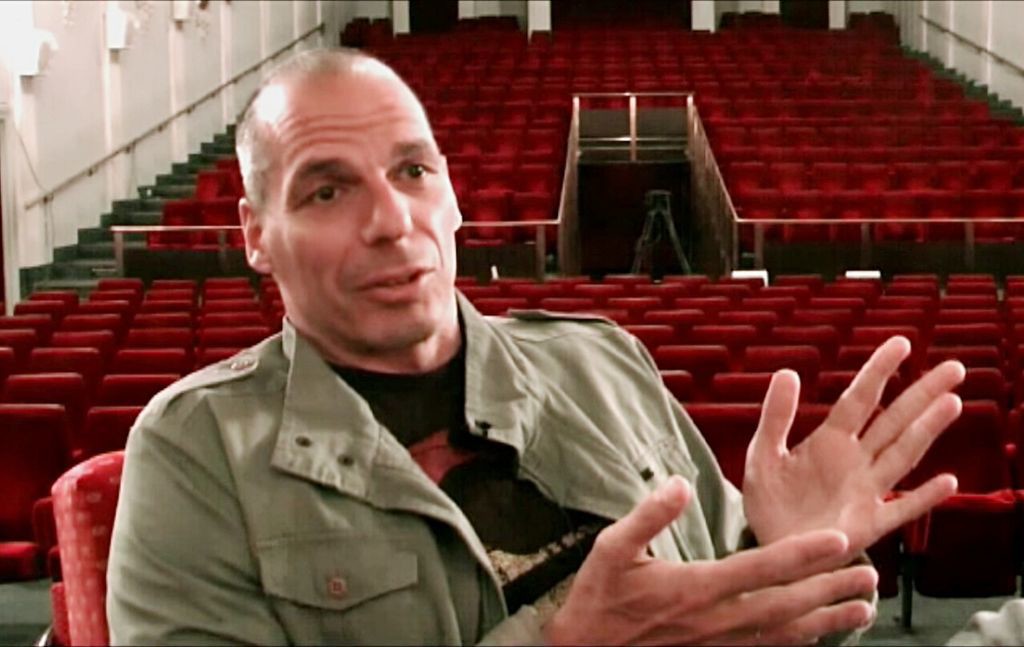 I don't want to sound patronising here, Yanis Varoufakis certainly has more academic qualifications than me and could undoubtedly teach me a thing or two about economics, but it does seem that his time as a minister has been an education for him in politics, the nature and art of negotiation and the ruthlessness of the establishment.
Understandably, Varoufakis seems to be in a sour mood after his experience of negotiating with the EU, the IMF and Wolfgang Schäuble. He voted against the austerity package accepted by Alexis Tsipras and is now merrily spilling the beans about an alleged Syriza Plan B for handling being squeezed out of the eurozone, the unpleasant odours that haunt the corridors of power and Schäuble's apparent intention to make Grexit a reality.
His efforts to explain to EU leaders that their own policies are damaging the EU and capitalism itself appear not to have been appreciated, as he told the New Statesman:
" … there was point blank refusal to engage in economic arguments. Point blank. You put forward an argument that you've really worked on, to make sure it's logically coherent, and you're just faced with blank stares. It is as if you haven't spoken. What you say is independent of what they say. You might as well have sung the Swedish national anthem – you'd have got the same reply."
But why did he imagine it would be any other way?
Forgive me for saying so, Professor, but you were naïve. These people already know the arguments and have decided that they are of no use to them.
Some – Schäuble, Tusk – appear to be ideologically committed to austerity, perhaps due to a sentimental attachment to the idea of the lower orders suffering or perhaps because of their political, personal or family histories.
Others have built careers in the service of an establishment that is becoming increasingly addicted to short-term financial returns, big dividends, not paying taxes and slashing waste, ie what's left of the welfare state.
They don't want to listen to the opposing case and explaining that case was not relevant to negotiation over Greece's debt.
In the long run, austerity means that the EU, and eventually capitalism, will eat itself.
But – and for anyone who's read previous relevant posts on my blog may find I sound a bit Johnny One Note here – the restraints on their short-termism have gone. These were essentially a powerful labour movement and, even more importantly in my view, a competing social system in the form of the Soviet bloc. They no longer exist, so the capitalist class no longer accepts that the state disciplines its need for higher and higher returns in the briefest delays possible.
Negotiation is not about persuading your opponents of the correctness of your case, it's about convincing them that they have something to lose by not accepting your demands or at least reaching compromise.
That's why I was amazed when the Syriza leaders declared that they would not leave the eurozone or accept loans from Russia.
Whether you intend to do it or not, why rule out a course of action that could frighten some of the people on the opposite side of the table (although not Schäuble in the first case, apparently)?
Equally puzzling was the Syriza leadership's acceptance of France's "help" in drawing up its final proposals (after Varoufakis's resignation).
The French government and the civil servants it deployed to look over the Greeks' shoulders may not want a Grexit but they have enthusiastically applied austerity policies and seem to have had a major role in drafting a swingeing package for Greece.
While the negotiations were going on, someone suggested to me that Schäuble was playing hard cop to allow Angela Merkel to look like the soft cop. Not a good comparison. Angela was quite hard enough. Wolfgang was more like the cop applies electrodes to your genitals.
The French Socialist leaders were the soft cops, with President François Hollande apparently on the phone to the Greeks and the Germans continuously in the run-up to the last deal and, in the end, they managed to thrust their package down the Greeks' throats.
Oh well! At least the Syriza leaders showed that politicians don't have to wear ties.
Ties are the sartorial descendants of a scrap of material that knights used to wear to stop their breastplates rubbing against their necks. Whether the big swinging dicks in the boardrooms and ministries like it or not, we don't wear armour any more, so ties are pointless.
That's a tiny victory, I suppose.
I'm off to Greece this week. So more on the blog later.