Given the exciting outcome of Turkey's parliamentary election, I'm taking my accounts of assignments out of sequence and publishing this from last year's presidential election. Erdogan won with a satisfactory majority but Selahattin Demirtas's HDP – the left-wing, pro-Kurdish party that has upset the parliamentary apple-cart in 2015 – was already doing well. And there were signs of trouble ahead for the AKP, as  RFI's perspicacious French service correspondent Jérôme Bastion pointed out to me.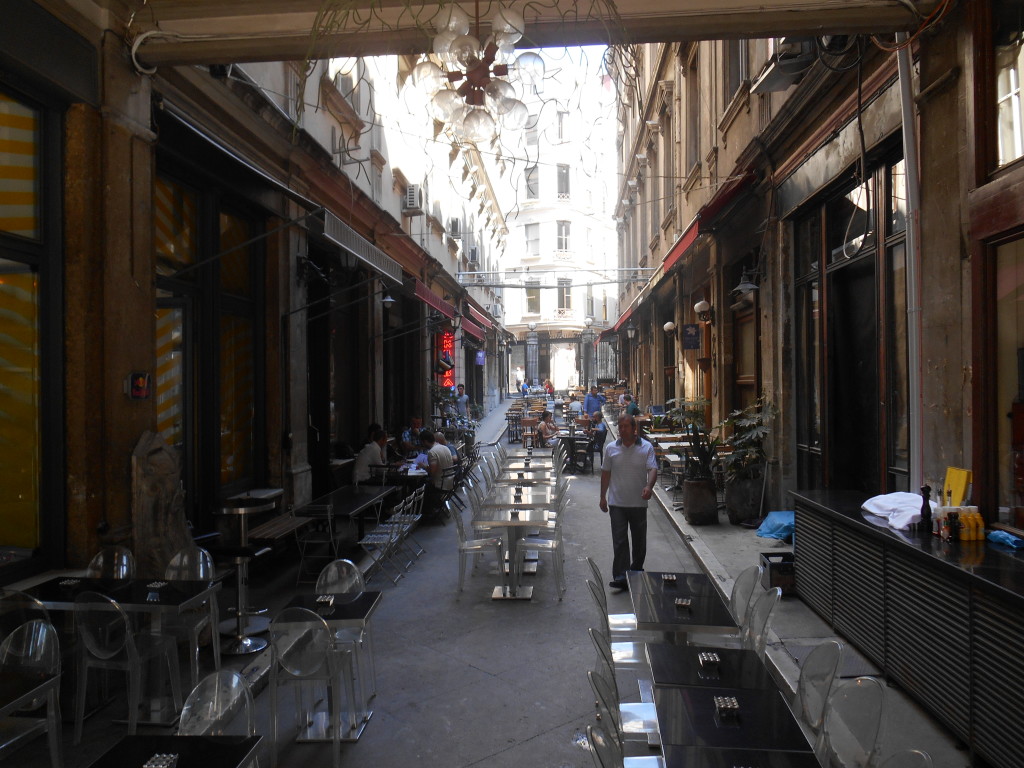 I had forgotten how East-meets-West Istanbul is – the pasajes, the domed mosques, the shots bars, the mackerel sandwiches, the beautiful women, some wearing cover, others wearing very little, parading along Istiklal, the travel posters, reproduced Persian miniatures, bibelots and ageing furniture in my determinedly quaint hotel.
And sophisticated, basking in its history but modern in its own way. Istanbul is unlike anywhere else in the world that I know and totally different to the rest of Turkey.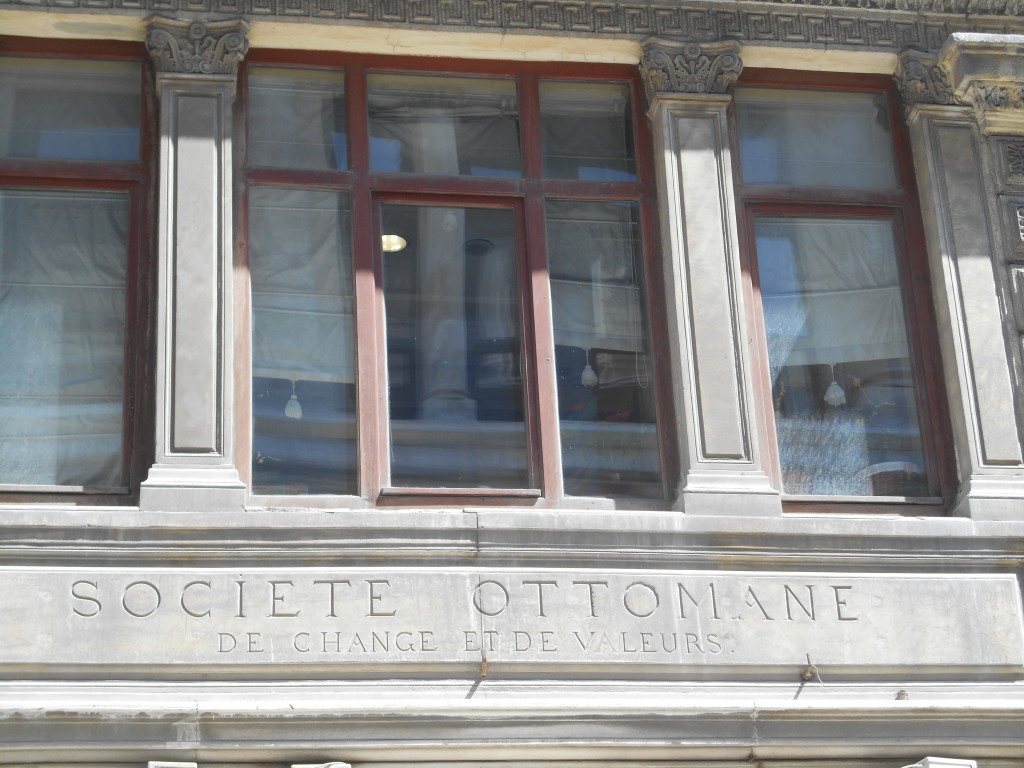 In the August heat families stroll along the sides of the Bosphorus, the banks not much higher than the sea, as oil tankers head for the Black Sea. Men fish off the bridges joining historic and modern Istanbul. A boy scarcely in his teens plays a hand drum incredibly fast in a passage cutting through a modern office building.
And banners, posters and bunting urge Turks to vote for Recep Tayyip Erdogan in the presidential election, first round on Sunday.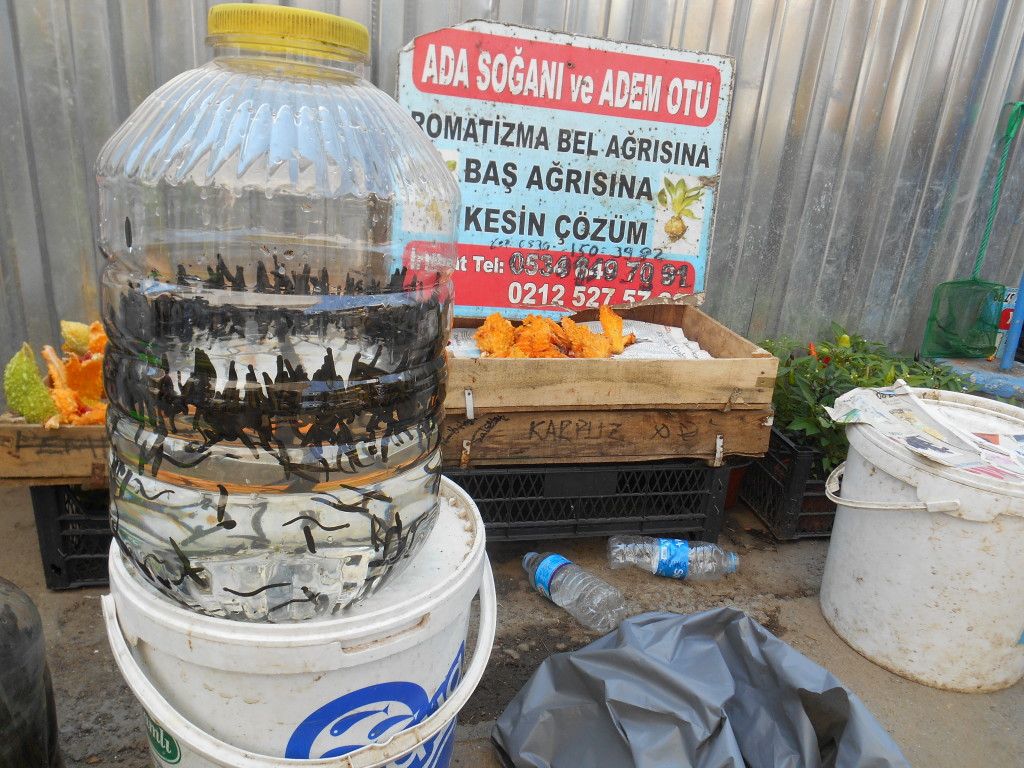 Erdogan, prime minister for the past 11 years, leader of the Islamic, conservative, pro-business Justice and Development Party (AKP) started his rise to the top as mayor of Istanbul and hopes to be elected and reelected as president, staying in power until 2024, the year after the centenary of the modern Turkish republic.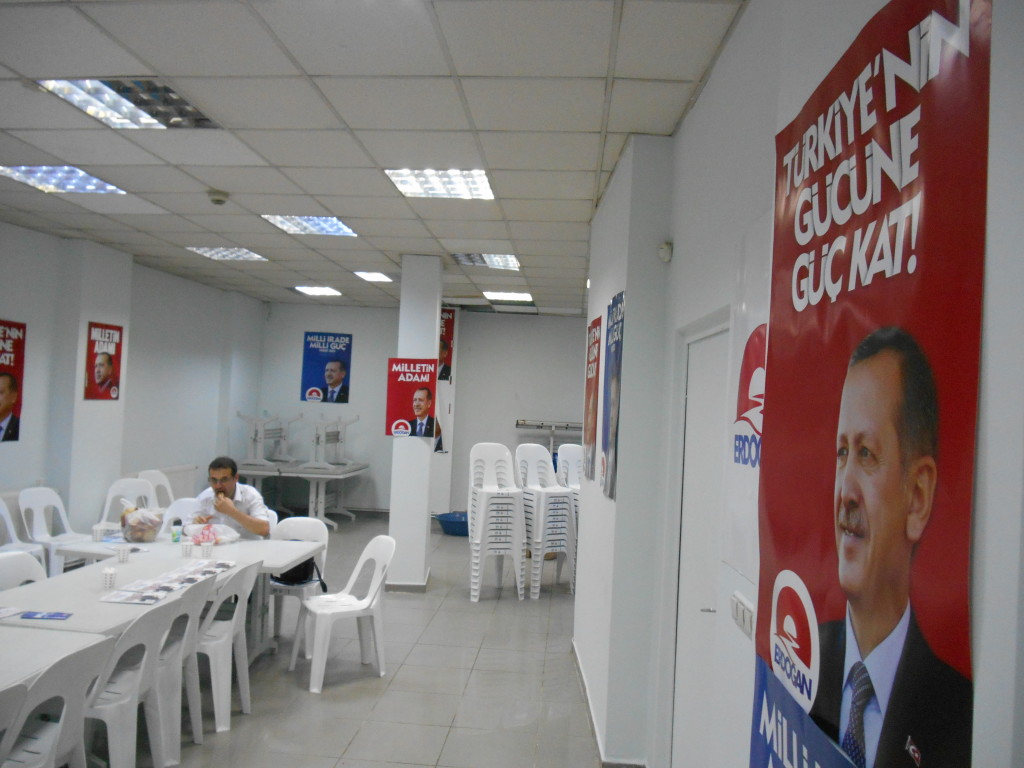 He can't bear the thought of taking a political back seat, which the presidency should be, being largely ceremonial according to the constitution, so he also hopes to make the position more powerful and remotely control the AKP, despite the constitution's requirement that he resign from his party if he wins the election.
All of which gives rise to suspicions of megalomania, suspicions that are confirmed by his fondness for megaprojects, including the stadium recently built in Kasmipasa, the district in which he was born.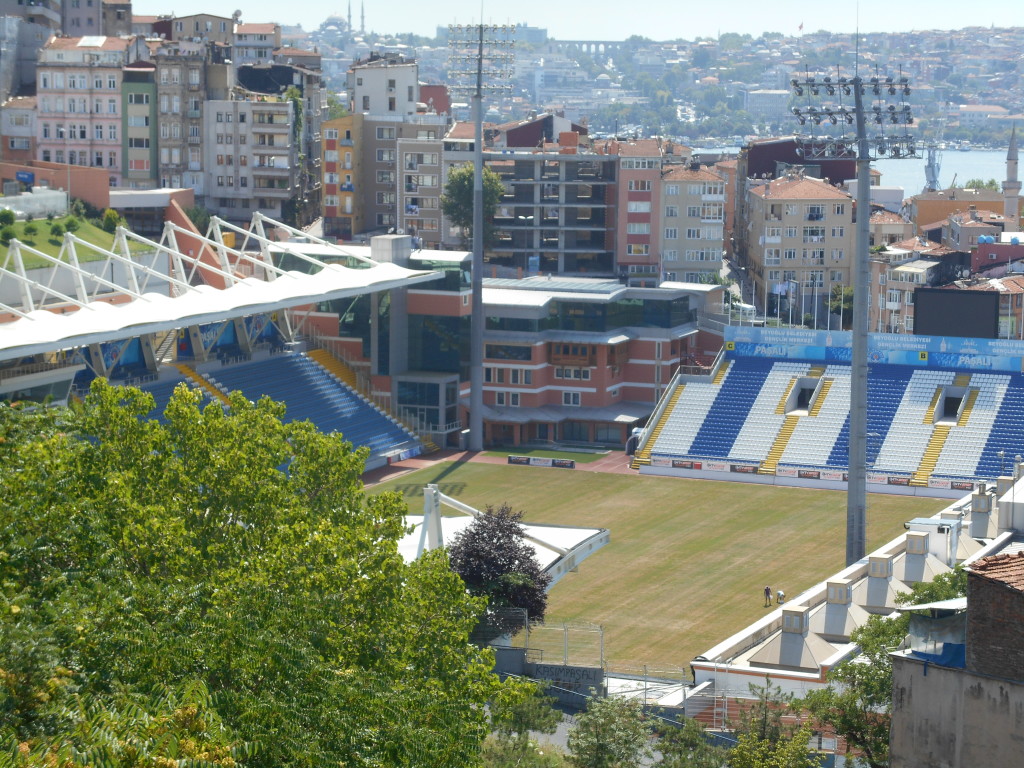 The Recep Tayyip Erdogan Stadium. sits on the side of the hill heading down to the Golden Horn from Pera, the touristy, Istanbuli bourgeois heart of the modern city, on streets that become more like the rest of Turkey as you approach the sea.
On narrow streets men sit drinking tea or Turkish coffee, playing board games and chatting, following the occasional woman who passes by with their eyes, regardless of how well covere she is.
The men all say they support the native son.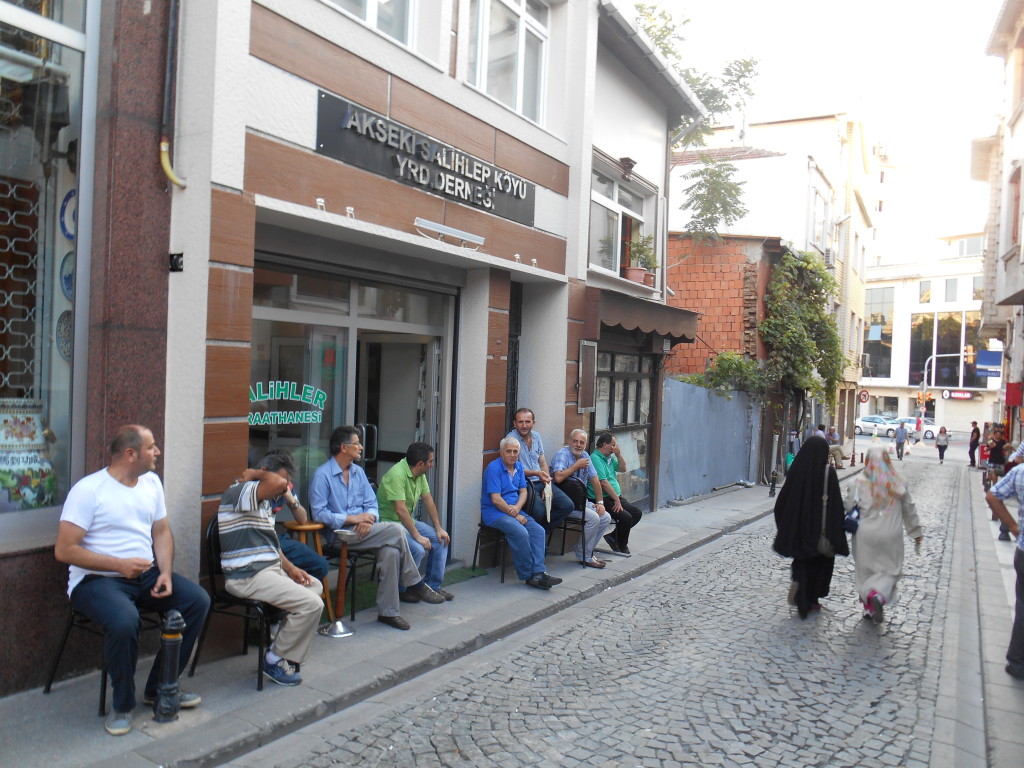 "I will vote for Erdogan because we are from the same place and he's made good jobs and he has brought Turkey growth," explains Tolga, a new technology worker.
He points to the infrastructure projects – roads, metros, tramways and airports that have been realised under AKP rule.
Erdogan's opponents accuse him of an Islamist agenda of undermining Turkey's secular constitution, of authoritarianism and of corruption.
But Turkey has experienced over five per cent growth every year since 2002, so jobs have been created for working-class people, social services have improved and the middle class has seen its living standards rise.
At the AKP's local campaign office, housewife Rukiye, her hair tightly wrapped in a dark scarf, speaks up for her candidate.
"He is with the poor people and he keeps his word," she declares.
The party doesn't have to do much campaigning around here, she says, "Five-year-olds show love for Recep Tayyep Erdogan."
The AKP organised a massive rally for Erdogan in Istanbul at the weekend and claims, perhaps a little boldly, that over a million people attended it.
Rukiye dismisses alleged proof of corruption on leaked tapes that appear to show Erdogan, his family and allies trying to cover up dodgy dealings.
"It's all lies," she exclaims with some vigour. "They say it is a montage – they cut them and edited them. All I can say is it's all rubbish."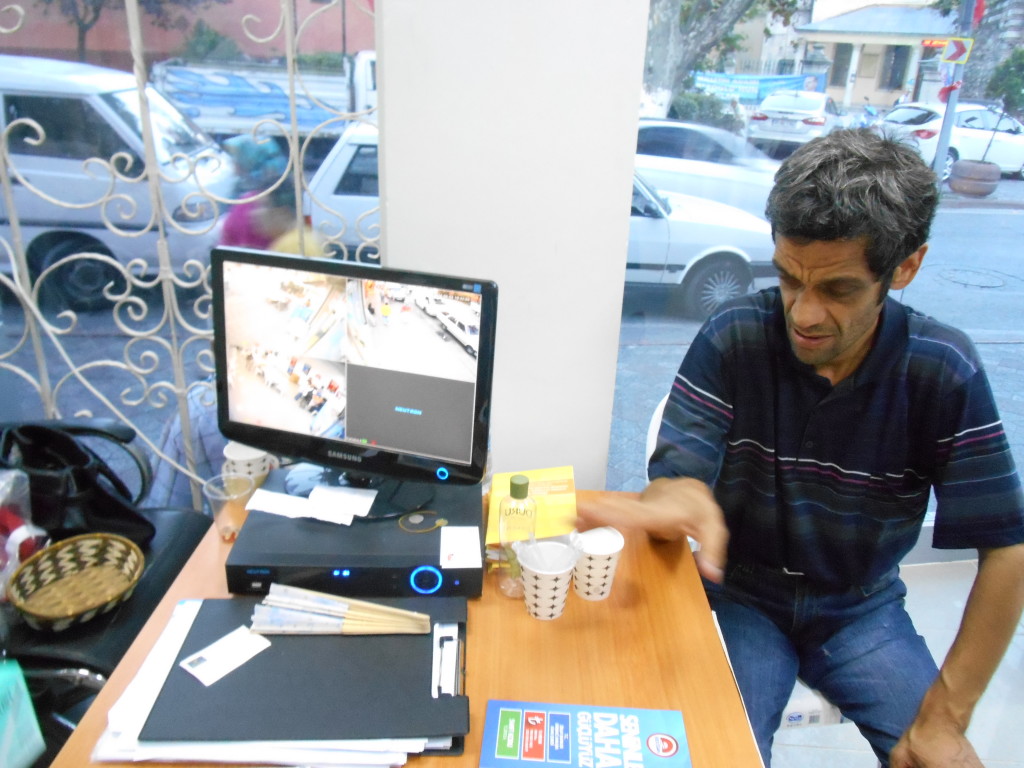 Most Turks are patriotic to the point of paranoia and Erdogan's backers claim that, as prime minister, he has put the country on the world's diplomatic map, declaring support for the Palestinians – although continuing to trade with Israel – backing revolt against Bashar al-Assad in Syria and proposing a model of democratic Islamism for the Muslim world.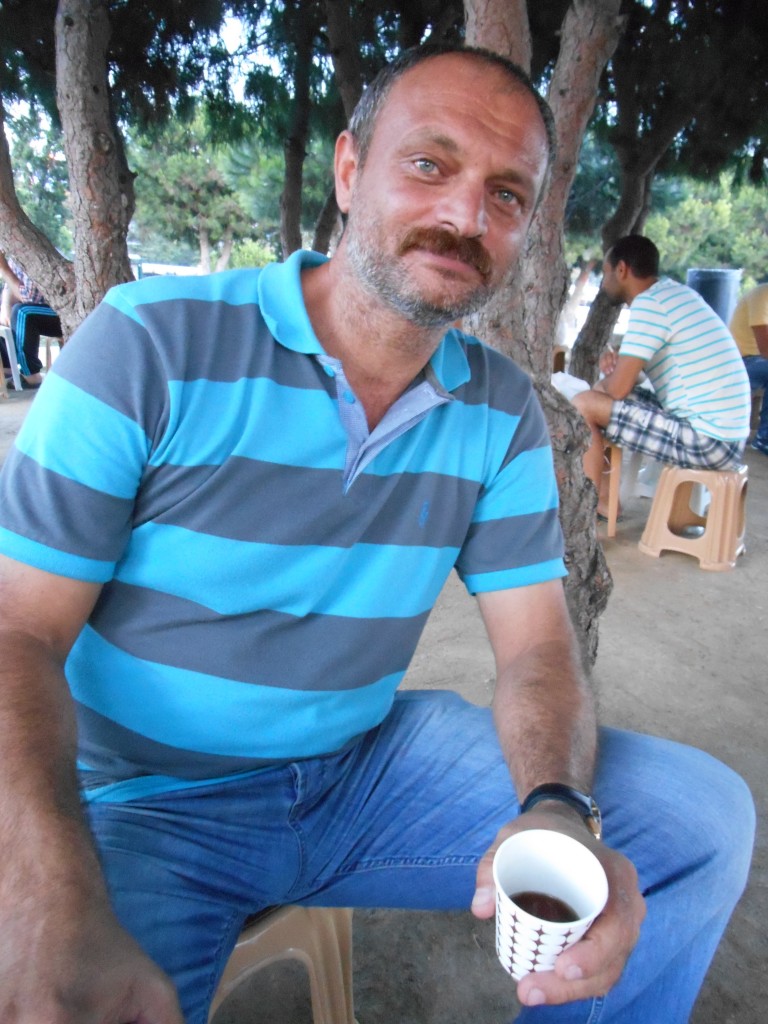 "He is leading Turkey very well and in the last 12 years the international view of Turkey has changed and we're so grateful to our prime minister," says Hakan, an self-employed man sipping tea by the Golden Horn. "For our country a powerful leader means a powerful country."
Turkey is a politically polarised country and Erdogan supporters are as fervent as his opponents.
If the opinion polls are to be believed, they're likely to win him the presidential election.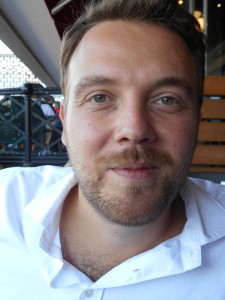 "It's a weird situation to be in Taksim right now," says Mustafa Kuleli, as he looks at the square from the terrace of Starbucks. "You walk into the park or you walk into Taksim Square and you remember. That was a turning point for journalists, and also all citizens, everybody agrees that was a historical moment to be here, to feel that solidarity facing the police, water-cannon, teargas … everything."
Kuleli is the general secretary of one of Turkey's journalists' trade union, elected after he took part in last year's Gezi Park protests.
They started as a campaign to stop the construction of a mosque and a shopping mall, disguised as an Ottoman-era barracks, on one of central Istanbul's few green spaces and blossomed into massive anti-Erdogan protests and clashes with the police.
Those heady days are over now and politics is being played out in the electoral arena with Istanbul festooned with banners for the three candidates – Erdogan, Ekmeleddin Ihsanoglu and Selahattin Demirtas, but mostly for Erdogan.
Despite the millions who opposed him on the streets last year, opinion polls show the outgoing prime minister has widespread support and could even win the election on the first round.
So were the protests a waste of time?
"Personally I didn't tie Gezi Park and daily politics," says Kuleli. "I think it's more than that. I think it's like May '68 movement in France. After '68 a right-wing party gained more votes. But that movement affected 40 years everywhere … all over Europe."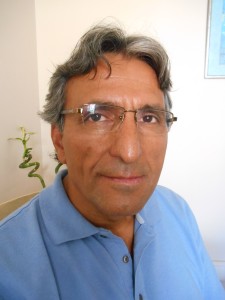 Sitting in a neat office up several flights of stairs, Ender Imrek, a socialist activist who is being prosecuted for his leading role in the protests, explains how the force of the law descended on him an his fellow miscreants.
"The police entered our homes by force," he recalls. "We were kept at the police station for four days and they mistreated us. They took our hard disks and our notes and our writings."
He and four codefendants are accused of masterminding the protests across the whole country.
"I said that I would be very proud to have organised them but millions were on the street and it would be discourteous to them to say something like that," is Imrek's reply. "The court wanted to jail us but there was a huge public protest so they didn't do that. But on 21 November our case will go to trial."
His Labour Party is supporting Selhettin Demirtas of the left-wing Kurdish-based People's Democratic Party (HDP) for president – in a "democratic bloc" against what they see as Erdogan's growing authoritarian tendencies.
"Erdogan wants to declare his dictatorship in this election and he wants everything to continue as it was in the past," he says. "We don't want that, we want democracy and we don't want things to go as they have in the past."
Erdogan's supporters don't seem too worried about his tough reaction to the protests.
Cernil is a driver working in Austria who is back in Turkey during the election.
Sitting with his wife on Gezi Park, only partially paved over thanks to the protests, he says it was right to break up the protests. 
"Yes, it was a little harsh but who cares?" he asks. "They had gone on for too long so they needed to be punished and, if you look at Europe, if there are any protests the police will intervene."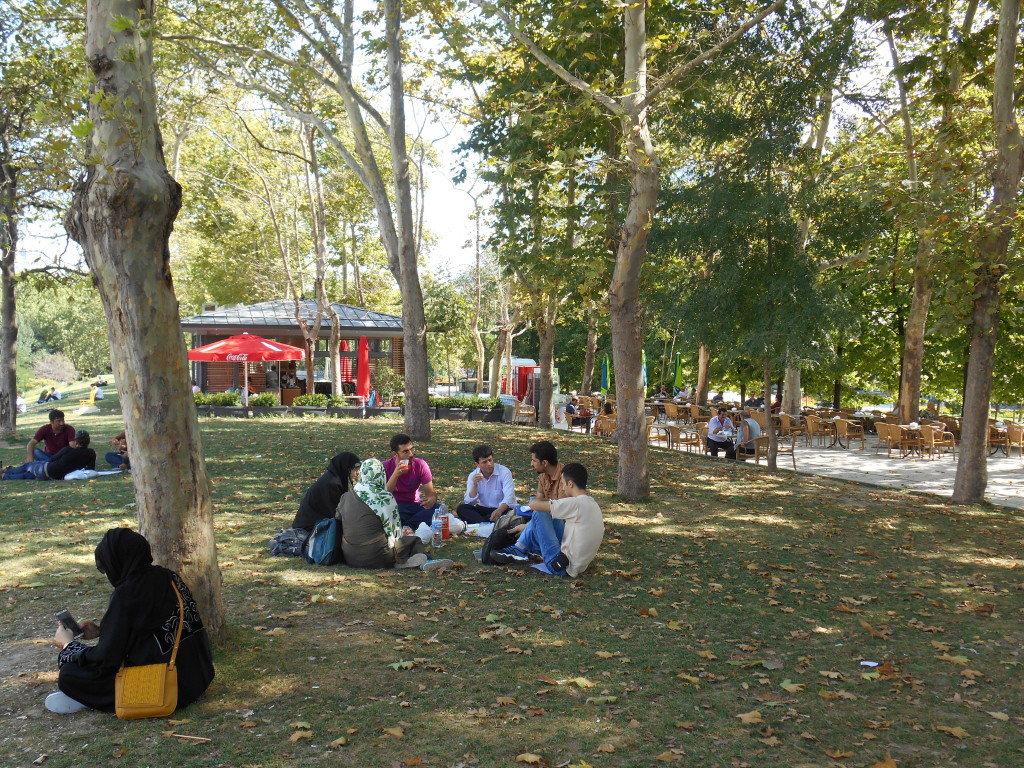 There is a mixed crowd on Gezi Park on a sunny weekday morning.
A Kurdish labourer brandishing a beer can says he saw police stop campaigners put up posters for Demirtas, who is a Yazidi Kurd himself, and another Kurd also declares his support for the left-winger, explaining that he has encountered discrimination during his 30 years living in Istanbul.
There's also concern about sectarian divisions in Turkey – both between Kurds and Turks and between majority Sunni Muslims and the Alevi minority, many of whom joined anti-Erdogan rallies.
Whose fault that is changes according to your political and religious affiliation.
"I was not on the side of Erdogan, I used to vote for left-wing parties," says Ismir, a Sunni textile worker. "But it turned into something sectarian. Alevis started to make a lot of noise and they started to insult us, the Sunnis. That's why I didn't like the protests."
But Feda, just back from studying in the Netherlands, supports the secularist Ihsenoglu and blames Erdogan.
"Rather than supporting the population in Turkey, he is trying to divide them in terms of their religion, their nationality," she says.
If elected president, Erdogan will "get all the power and do whatever he wants according to his beliefs", she thinks.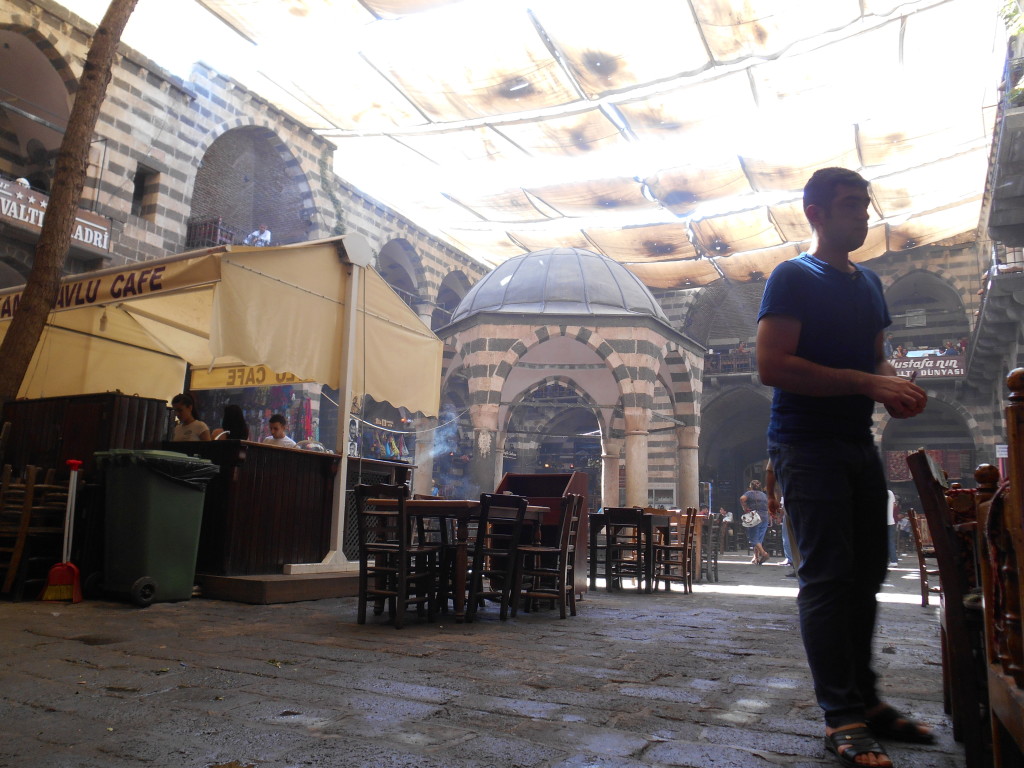 Diyarbakir is a very different city.
The temperature is higher – "38° today, we start to complain when it gets into the 40s," says my fixer Hasan, passed on to me by the amiably roguish-looking Samet, who was in turn recommended by local journalist Yimlaz Akinci – but the heat is a dry heat, so you're not drenched in sweat all the time as you are in Istanbul.
The historic town walls are in ark stone and extremely solid, evidence of centuries of conflict, and the street-life is unmitigatedly Middle Eastern, unless you count a superabundance of mobile phone shops as agencies of Western influence.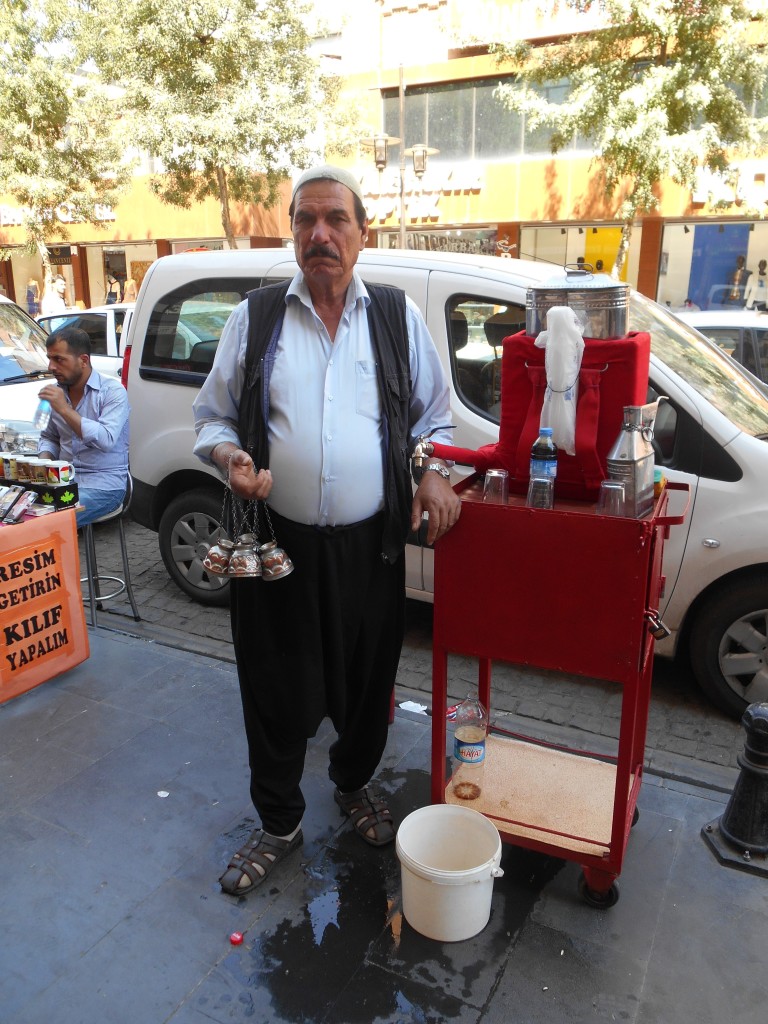 Tea sellers, some in traditional baggy trousers and colourful waistcoats, patrol the pavement, as do fruit sellers, bread sellers and shoeshine men, there's a caravanserail and a bazaar, complete with courtyard for meeting, chatting and sipping çai.
Diyarbakir is the biggest town in the majority-Kurdish south-east and a bastion of Demritas's HDP, which was the Peace an Democracy Party (BDP) when I was last here in 2007.
The BDP was a lot keener to cooperate with journalists back then, it seems – or maybe we prepared our visit better – and a first visit to their headquarters in a modern building in a residential district out of the centre of town leas only to a vague promise to fin us someone to interview tomorrow.
Meanwhile, I struggle unsuccessfully to use the wifi in my hotel, we visit the Human Rights Association, where Demirtas started his career and discuss the Kurdish question with a local lawyer.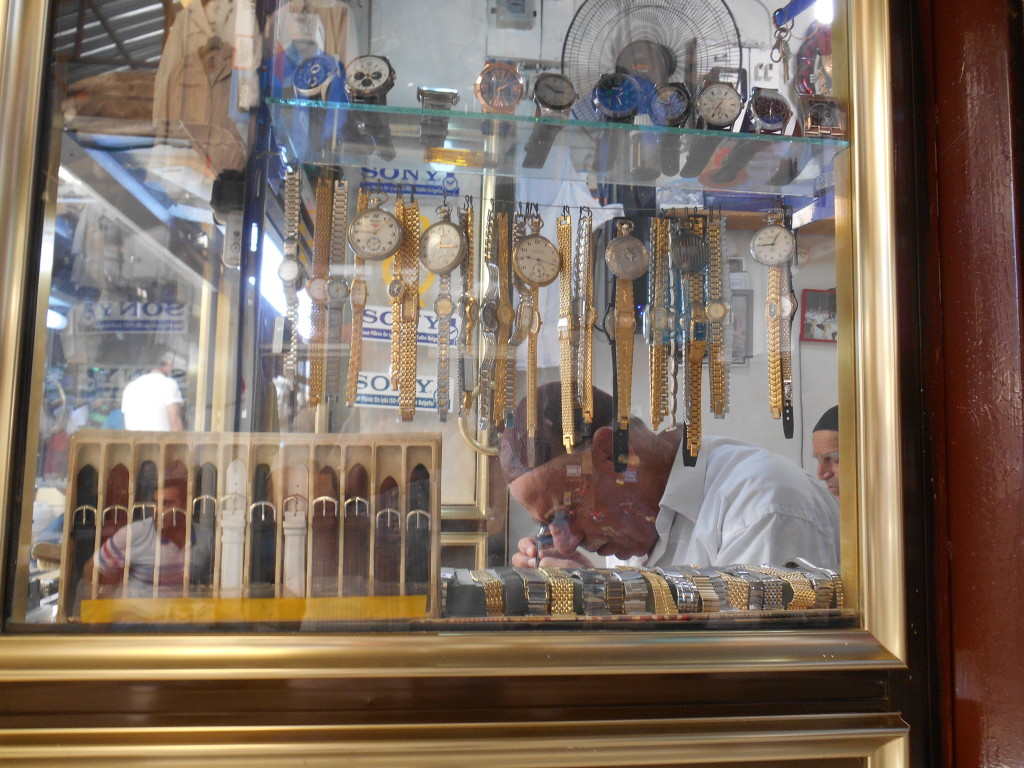 Slightly perturbed by our unannounced arrival, Abdusselam Incebren, the assistant secretary of the Diyarbakir Human Rights Association, reproaches us gently but agrees to talk about the organisation's work.
Formed in the 1980s, following the establishment of a human rights association in Ankara, the organisation has had its work cut out ever since, especially during the state's attempts to destroy the Kurdish Worker' Party (PKK) guerrilla movement, which led to the abuses and atrocities associated with such dirty wars.
"The worst time was in the early 1990s," he recalls. "Why? Because many people were killed, many people were tortured, many people they left home and just didn't come back. So we are still investigating what happened to these people."
That was under a secularist government, committed to Mustafa Kemal Atatürk's vision of a monolithic Turkish nation, a project that the Kurds have always disrupted.
"If you compare today to the past you cannot say that we have those problems," Incebren points out.
That's because of one of the many ironies of Turkish politics – the right-wing, Islamic AKP has proved more open to making concessions to Kurdish national sentiment than the Republican People's Party (CHP), the social-democratic party that is the largest group in the secularist camp.
Not that there isn't still a heavy and sometimes heavy-handed police and military presence in the south-east.
"It's not like it was in '95-'96 or up to 2000, people are not lost, tortured," Incebren goes on. "But one thing we do see is on the streets and in meetings the police abuse their power and that's a kind of torture.
"With the peace process, if you compare AKP with before there is an improvement in human rights. But if they don't kill, they don't torture, they're still putting people in jail today. The techniques have changed."
Incebren and his fellow rights workers have fond memories of Demirtas.
"People will never forget him. He was really very good. In the Human Rights Assocation he showed how to be human, how to develop the organisation. We want to take that further. He did a great job, really."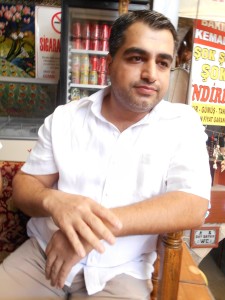 Edip Yigit is defending several Kurdish activists arrested in 2009 and the ensuing years.
They are being released now because of parliament has finally got around to passing a law banning detention without charge for more than five years.
Although they were members of the PKK's political wing, he says they posed no threat to security.
Öcalan has declared a truce and, as disciplined cadres, they toe the party line.
"These people had clean records," he says, sipping çai in a café in the caravanserail. "In court they could find no crime to charge with them."
The cases are a late example of the dirty war against the PKK even as the PKK government is negotiating with Öcalan.
"Today there is a peace process between the Turkish state and Kurds and, so, to me, this was a big mistake," comments Yigit.
He blames the arrests on "parallel structures" in the Turkish state, a phrase often used to describe followers of Erdogan's former ally Fehtullah Gülen, whom he is now purging after a breach that led, among other things, to the corruption scandal.
Kurds welcome the peace process but remain suspicious of the Turkish state's intentions, notably because of the heavy military presence throughout the country, especially in the south-east, leading them to suspect that the army remains ready to start a new anti-PKK offensive.
The AKP's openness to negotiations is usually attributed to several factors – pressure on human rights from the European Union, which the government was trying to join, a less firm commitment to Kemalist nationalism and Öcalan's capture putting the government in a strong bargaining position.
But the narrative in the south-east, which Yigit appears to agree with, is that Öcalan took the initiative.
Kurds who intend to vote for Demirtas sum up their aspirations in a call for "democracy", by which they tend to mean equal treatment by the state and an end to discrimination.
They are deeply suspicious of Ankara-based parties.
"In the past even the Kurdish language was forbidden, because of one word you could be put in jail for 20 years." recalls Kasri, a labourer hanging around in Dyarbakir's bazaar. "Not only this, they killed people, they tortured people for many years, so how can I believe these parties are democratic?"
He's happy about the peace process but wants it to bring change.
"For about one year nobody is dying. It means a lot that people can sleep, people can be happy, people can work. But one thing, we want democracy – for everyone, not only for Kurds or Turks, for everyone who lives in Turkey."
The situation in Iraqi Kurdistan, now practically independent as local peshmerga and Syrian Kurd fighters fight the Islamic State (ex-Isis) armed fundamentalists and the Iraqi state loses ground to the south, might be expected to strengthen Turkey's Kurds.
But that would be to discount the Kurds' long history of internecine squabbles.
The regional government President Massoud Barzani, who is reported to have been acting as a facilitator in contacts between the PKK and the Turkish government, has proved an inconstant ally to the PKK and seems to regard Öcalan as a rival rather than a comrade.
Economic considerations may also undermine his status as an honest broker. Iraqi Kurdistan is now more than solvent thanks to exports of oil to Israel that must pass through Turkey.
Little wonder then that Barzani has promised Erdogan to "play a pacifying role in eastern Turkey and […] help the Turkish Kurds to take their place within the Turkish nation" and that Turkey has granted legal recognition to a new Turkish branch of Barzani's Kurdish Democratic Party (KDP-T).
"Today the Turkish state understands that it cannot challenge the Iraqi state and so they had to accept these people any more," comments Yigit. "On the other hand, it was very good for Turkey to have trade with these people and get a warm relationship with them. Why? Because of petrol."
Even with Barzani's Kurdish Regional Government security forces reportedly trying to prevent fighters opposed to the peace process passing into Turkish territory, there have been sporadic clashes between the Turkish military and armed groups of unclear affiliation, undermining confidence in the peace process in the eyes of some Kurds and even elements in the Turkish general staff.
Erdogan has not hesitated to use divisive rhetoric during the election campaign, pointing out that Demirtas is from the Yazidi minority as well as lashing out at Alevis, Armenians and Jews, indicating that change of tack on the Kurdish question is possible if he is elected president.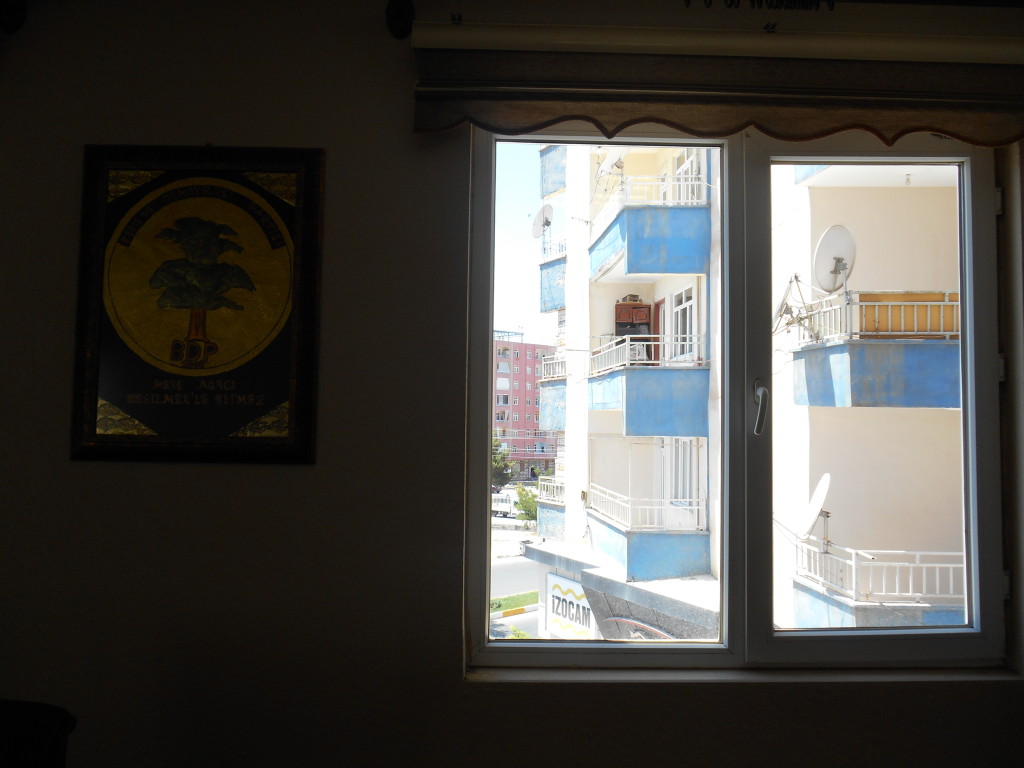 A Kurdish channel is broadcasting live interviews with Syrian Kurd fighters battling the Islamic State (ex-Isis) in northern Iraq as we wait to speak to an HDP official at the party's Diyarbakir headquarters.
They think the peshmerga are a bunch of sissies, according to Hasan, who admires the fight they have put up against the Sunni fundamentalists, who are currently driving Yazidi and other minorities out of the area they control.
It is the election campaign that is on the mind of Meral Damis Bestas, a brisk, trouser-suited woman who, strangely, introduces herself as the wife of HDP president Mesut Danis Bestas.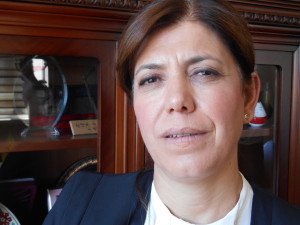 It's going well and not just in the south-east, she claims.
"Mr Demritas has already extended his support in Turkey," she says, "In all of Turkey, wherever he goes, people are giving a lot of sympathy to him because he says new things. He is not saying what people said before. He is guaranteeing no discrimination between people."
In the aftermath of the Gezi Park protests, Demirtas has garnered the support of the hard-left parties who mobilized against Erdogan, boosting his chances of winning votes outside the BDP/HDP's traditional Kurdish base.
But, despite that and the HDP's long-standing left-wing credentials, his campaign seems to have focused on fighting discrimination  – not just  against Kurds but against Alevis, Armenians, women and even, unprecedentedly for Turkey I believe, gays – rather than wider issues of social and economic justice.
"The HDP is left-wing but that does not mean that it rejects other ideas," is Bestas's answer when I raise this question. "It's open to everyone, from any ideology, it doesn't matter. The main thing is that there are a lot of laws in Turkey that hamper human rights. Beside this there is poverty, in some parts of Turkey people are living in poverty and others they are rich. This is not social justice. Other parties come from a nationalist perspective but Demritas is a man of the people."
The party does not hide its sympathy for the PKK – posters calling for Öcalan's release decorate their HQ's the walls – rather presenting itself as an essential go-between in the pace process.
"I can tell you that we are the guarantors of this peace process," says Bestas. "Because if there was no Mr Öcalan or HDP fighting for this peace process it wouldn't work on its own."
Erdogan is dragging out the process, she claims.
"He wants to make it longer all the time but we are struggling against him."
She accuses the outgoing prime minister of abusing his position to help his election campaign, a charge that is echoed by OSCE observers.
"It is not an equal race. Recep Tayyip Erdogan has a lot of advantages," Bestas says. "There is no fairness in this country. We can only work with our people because we can't spend millions on our campaign. For Mr Tayyip Erdogan every state organisation, every mayor is working for him. Fifteen or 16 TV channels are supporting him and they are reporting his every word, every speech. So how can we be equal?"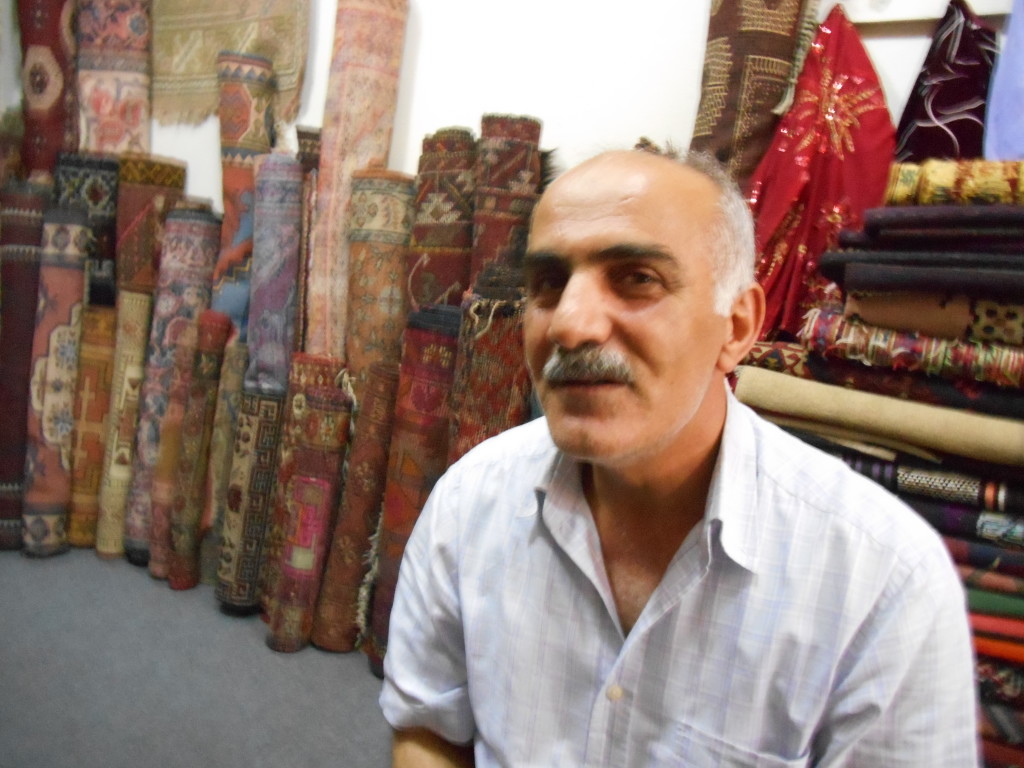 Seated in his carpet shop in the Diyarbakir bazaar, Javed, is a fervent Demirtas supporter because he believes he stands for real democracy.
"Turkish people, Kurdish people, every people working together, working in one country. Before many people in Diyarbakir … Turkish people, Kurdish people, Arabic people also, working together. Democracy like this."
But one thing Javed will never do is vote for the Republican People's Party (CHP) and Nationalist Movement Party (MHP), who are supporting Ihsanoglu. 
"Second round I'm giving to Erdogan."
"Why?"
"I am not giving to CHP other parties with Ihsanoglu."
Although some street traders and a civil servant tell us they will vote Erdogan in the first round, Demirtas's campaign has plenty of support in Diyarbakir and he  hopes to pass the 10% bar, a performance that, if repeated in a general election, would mean the HDP could have an official group in parliament.
But that won't put him in the second round, if there is one, and many Kurdish voters are likely to vote Erdogan, if faced with a choice between him and Ihsanoglu.
"This is not our policy," the HDP's Bestas, told me. "The AKP is not supporting our principles, so we are completely separate. We will not call on people to vote Recep Tayyip Erdogan in the second round."
But that doesn't deter many Kurds – Cengiz Aculca, whom I met in Istanbul, for example.
Aculca, a Kurdish building worker who has lived in Istanbul for 30 years, is going to vote for Selhettin Demirtas but, if there is a second round and Demirtas is eliminated, he will transfer his vote to Erdogan.
The CHP and its enemy-turned-ally, the right-wing Nationalist Movement Party (MHP), are beyond the pale, so far as he is concerned.
"They dealt us a great blow during the '80s and the '90s, especially in the south-eastern part of Turkey," he says. "Lots of things happened there, so I don't support them."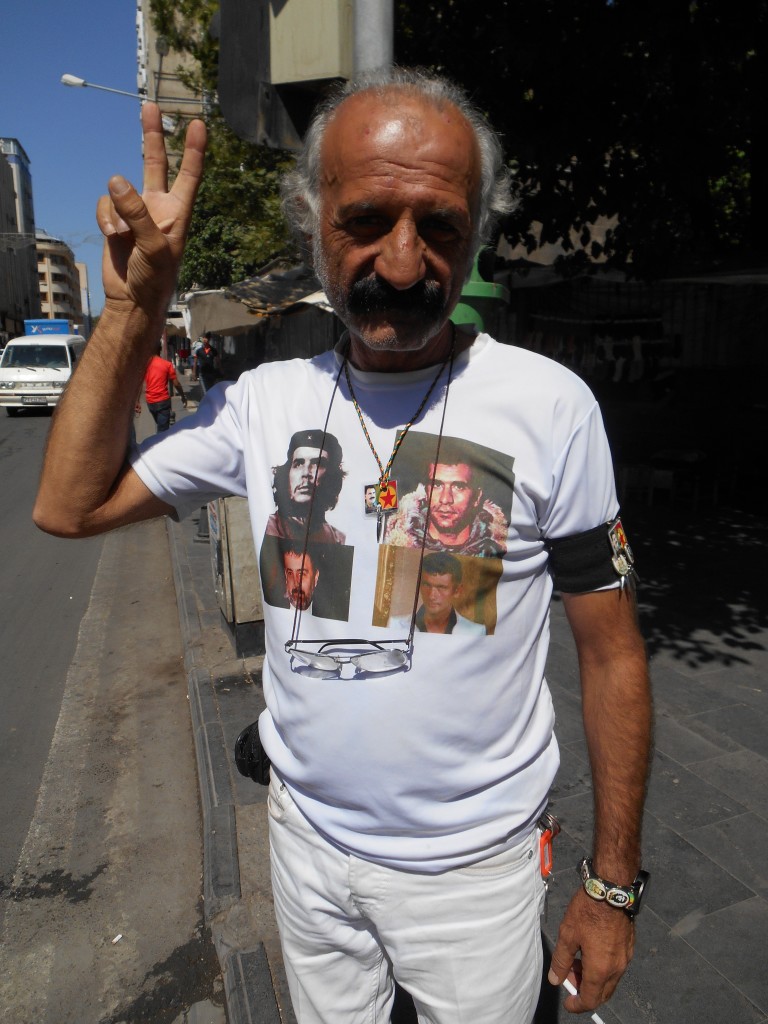 On the city's main street we run into Bayram.
"I will speak Kurdish," he announces determinedly and launches into a paean for Demirtas
"With my last drop of blood I will support Mr Demirtas," he declares. "And Kurds who do not vote for him, they are dishonest because, whether he wins or not, Demirtas is against discrimination, against any people living in Turkey – Armenians, Jewish, Christians and any ethnic group."
Bayram's views do not come as a huge surprise since Bayram, a balding but impressively moustached middle-aged man, sports a T-shirt decorated with several portraits – among them those of Öcalan and Che Geuvara – an arm band with the PKK's symbol and what look like effigies of bullets and an Abdullah Ölan watch.
It appears he was just as open about his political affiliations when he lived in Mersin, a Turkish-majority town on the Mediterranean, where they did not go down to well in certain quarters.
First, he says, he was visited by CHP members who told him in no uncertain terms to get out of town.
Then he was visited by a group of toughs, who knocked him about about and smashed the Öcalan watches he had been selling on the streets, and delivered the same message.
Finally, a message to the same effect came from the mayor and he fled to Diyarbakir.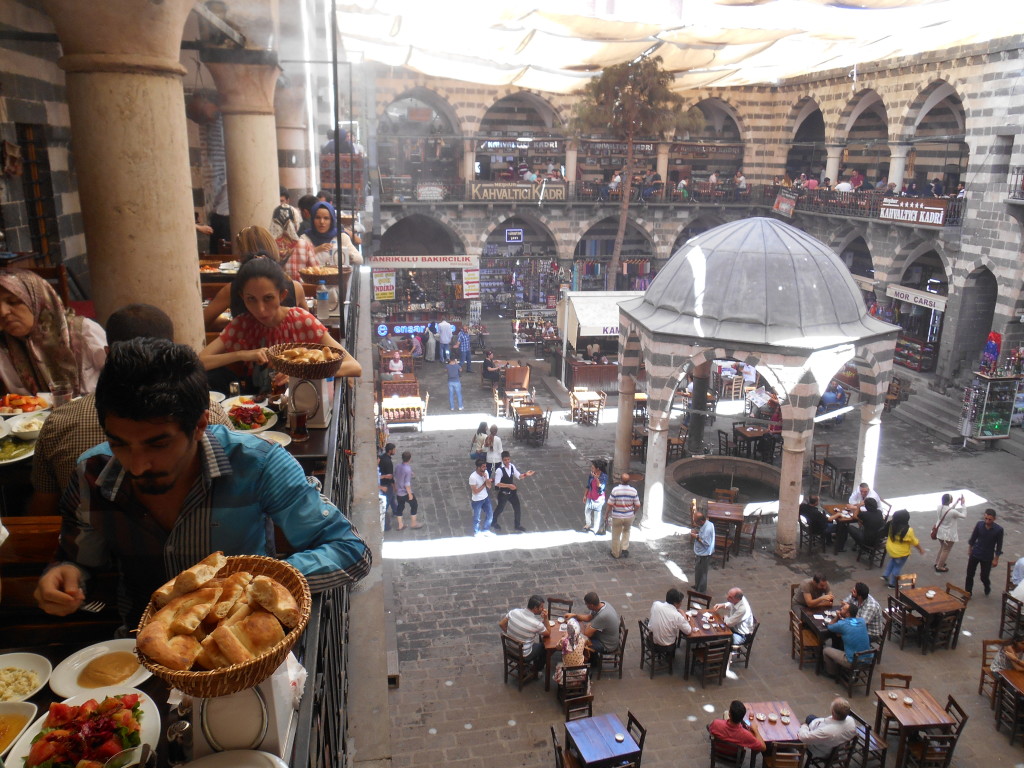 Hasan and I take lunch in the caravanserail at a stand bearing the name Kamer.
It is run by the women's rights group that I visited last time in Diyarbakir and provides an income to women who cook at home and come here to sell it. Very good food it is, too.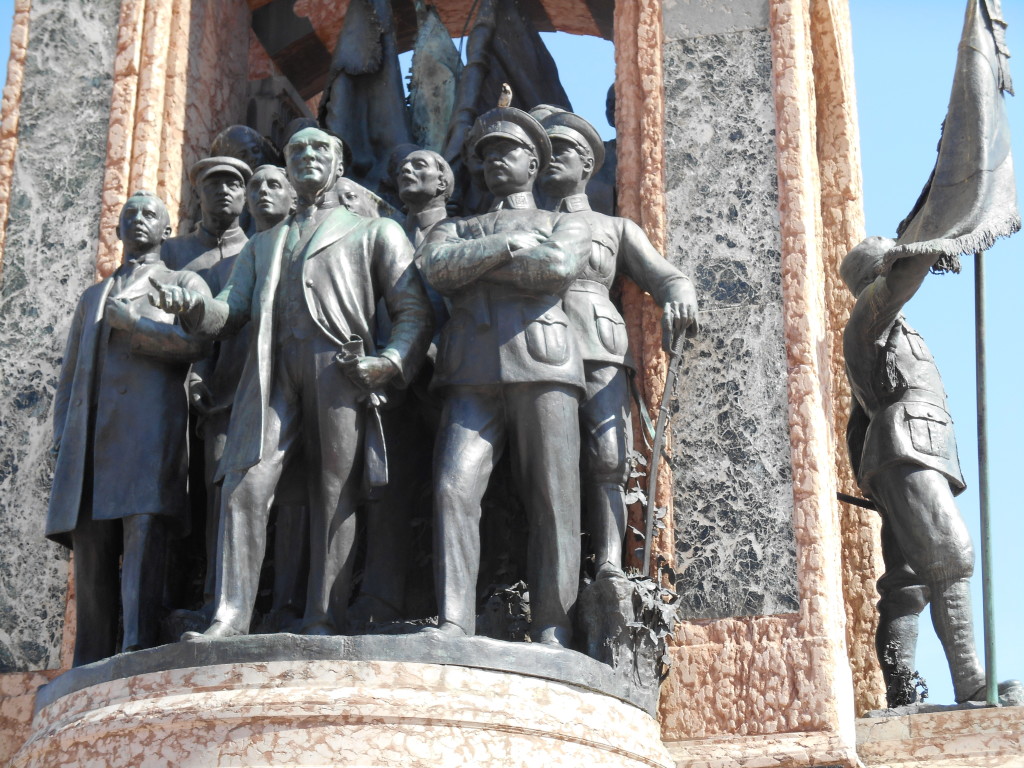 The management of the Marmara Hotel were "very good" during the Gezi Park protests, Binnaz Toprak assures me as we make our way to the first floor lobby for our interview, I having vetoed the Kitchenette café, where we met, on the grounds of noise.
The hotel opened its groud floor to protesters who had been teargassed or manhandled by the police, she recalls, as the guests, presumably watched the show from their luxury suites.
It's calm now, apart from the occasional raised voice of an excited client, and the guests loiter in the lobby – many of them Gulf Arab women in niqab or their husbands, some whom are wearing hairnets following hair transplant operations that are apparently not available at home.
Looking out onto Taksim Square and Gezi Park, Toprak, a former academic and CHP MP, is disarmingly frank about the chances of the candidate her party is backing in Turkey's presidential election, Ekmeleddine Ihsanoglu.
"Unfortunately all polls show that he doesn't have too much of a chance," she admits.
It shouldn't be that way, according to Toprak.
"Normally his chances should be high because the other major candidate, the Prime Minister Erdogan has been using hate speech against people with different identities, he has been screaming on the [TV] screen for the last I don't know how many years, he scolds people, there is this tension in the country, whereas Ihsanoglu is this quiet man, who is a gentleman, who won't even answer him."
But being a gentleman doesn't seem to be paying off.
The latest poll shows Ihsanoglu at 34%, with Erdogan 57% and left-wing Kurd Selhattin Demirtas 9.0%.
Toprak says Erdogan is primarily responsible for the intense political polarisation in the country today, although she admits that her own camp has contributed to the bitter tone of polemics that turn to vitriol on social media.
"We have been divided into two or even three groups of people – the Kurds, the secularists and the Islamists – and the more he polarises, the more he consolidates his own supporters," she complains, adding the she fears that "it could come to a civil war between these groups".
She is not alone in her fear of the future. There's widespread fear of the secret services snooping on conversations, several cases of phone-tapping have been exposed their, journalists fear for their jobs after Erdogan has picked out colleagues for public criticism – indeed, some have already been fired, allegedly due to government pressure. Several people have mentioned to me or to colleagues that they are thinking of leaving the country of Erdogan wins.
The secular camp has supported military coups to prevent Islamist-led governments in the past but Toprak hopes those days are over, praising Erdogan's Justice and Development Party (AKP) for forcing the military out of politics.
The CHP, often described as a social-democratic party, has formed an alliance with the Nationalist Movement Party (MHP) behind Isanoglu in this election, a pro-secular bloc that has come together over recent years despite the fact that the MHP is a hard-right party, whose members used to fight in the streets with left-wingers a few decades ago.
It's just an electoral alliance, Toprak insists, saying that for her the CHP is still a left-wing party.
In 2007, when I accompanied CHP members campaigning for support in Istanbul, I was shocked by the Kemalist dogmatism of its members.
That seems to have changed, if Toprak is anything to go by, although it is difficult imagining this amiable woman ever having been anything other than polite and reasonable.
The secularists may have been too doctrinaire in their defence of Atatürk's legacy, she admits, looking back on their insistence on banning women wearing head cover in education and public service and regarding religious conservatives as vulgar provincials.
"Maybe it was too radical, the understanding of the party in the past but I think that the party has come to an understanding where it's willing to accept people who want to live and Islamic way of life, let them live that way of life. Nobody should interfere with the others' choices."
That doesn't mean dropping the fight for women's rights, however, particularly in the light of AKP leaders' statements on the matter that lead feminists to fear the worst.
Deputy Prime Minister Bülent Arinç aroused equal amounts of concern and derision recently when he said that women should not laugh in public, prompting a flood of selfies of immodestly happy females.
Erdogan has expressed shock at the state of dress at Istambuli women, said that women should have three or five children and threatened to criminalise caesarean sections and abortion.
Other party thinkers have said that pregnant women should no go out in public and that it is natural for men to have a number of wives.
"The women's issue is an important issue," comments Toprak. "Because I think it's at the gist of the Islamist project anywhere in the world.
"What's going to be different if the Islamist come to power? They adjust themselves to new technologies, modernity, buildings, roads, new phones and the modern economy. What would radically change is gender relations and the position of women."
But don't the polls show that the majority of the country agree with this conservative religious agenda?
"Yes, they do."
So what will the CHP do about it?
Again that disarming frankness.
"I have no idea. Despite all that has happened his [Erdogan's] supporters still support him."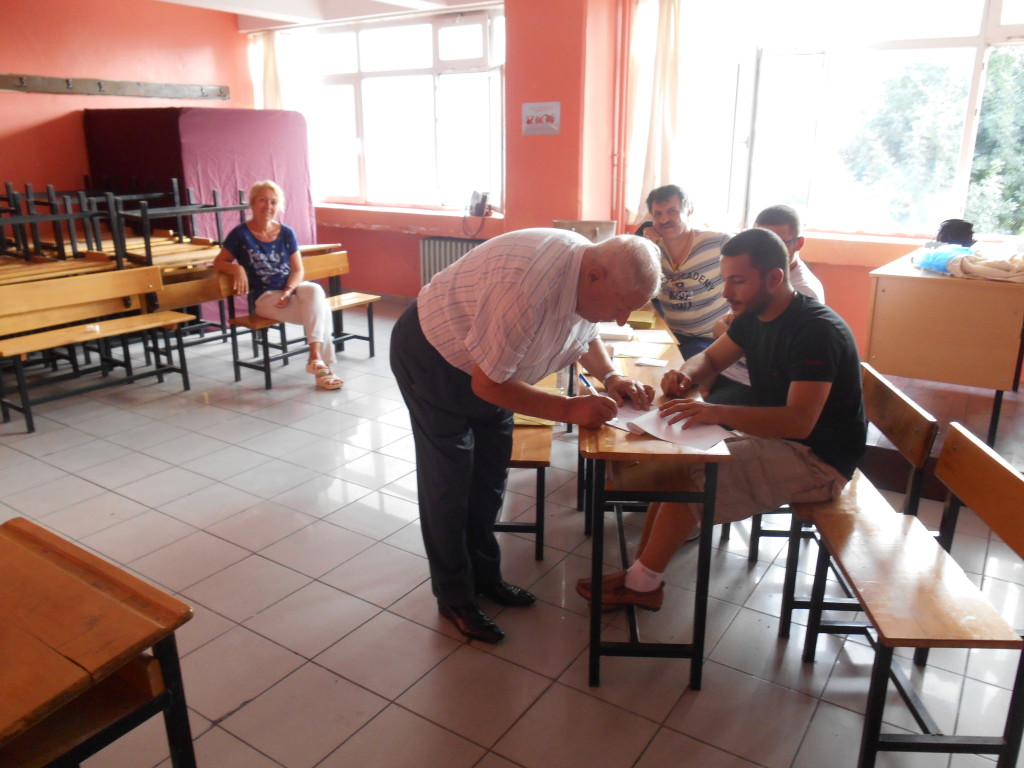 Voting is brisk at polling stations in Sisli, a middle-class area that is a stronghold of the secularist Republican People's Party (CHP), shortly after polls open at 8.00am.
Most voters ready to speak to the media have cast their ballot for Ekmeleddin Ihsanoglu, the independent supported by the CHP, citing his honesty and his academic qualifications as reasons for backing him.
But not many are enthusiastic.
Ihsanoglu was secretary general of the Organisation of Islamic Cooperation until he decided to stand and some secularists find him a strange choice for their party to support.
"His past is more Islamic thoughts and I am not the right for that thinking," comments Canzu, a finance worker, adding that she doubts he would stand up for the secular values of  Mustafa Kemal Atatürk.
In Eyüp, a more socially mixed and politically divided area, Ihsanoglou voter Sacettin, a jeweller, found Ihsanoglu's campaign lacklustre but blames the CHP and MHP.
"I think that the parties that support him should have been campaigning and it seemed as if he was alone," he comments.
But he has turned out to vote anyway, afraid that Erdogan's election would mean "fascism and dictatorship".
Protective of their right to a secret ballot or discouraged by the men hovering and listening to people talking to the media, many voters decline to comment.
But a number are far from shy of saying that they had voted for Erdogan.
"It's obvious, we have a leader and we vote for him," says public employee Erdal. "We love him and so I voted for him."
"He is a world leader, he cares for Muslims," declares Mustafa a recent graduate, who seems on very friendly terms with the hoverers.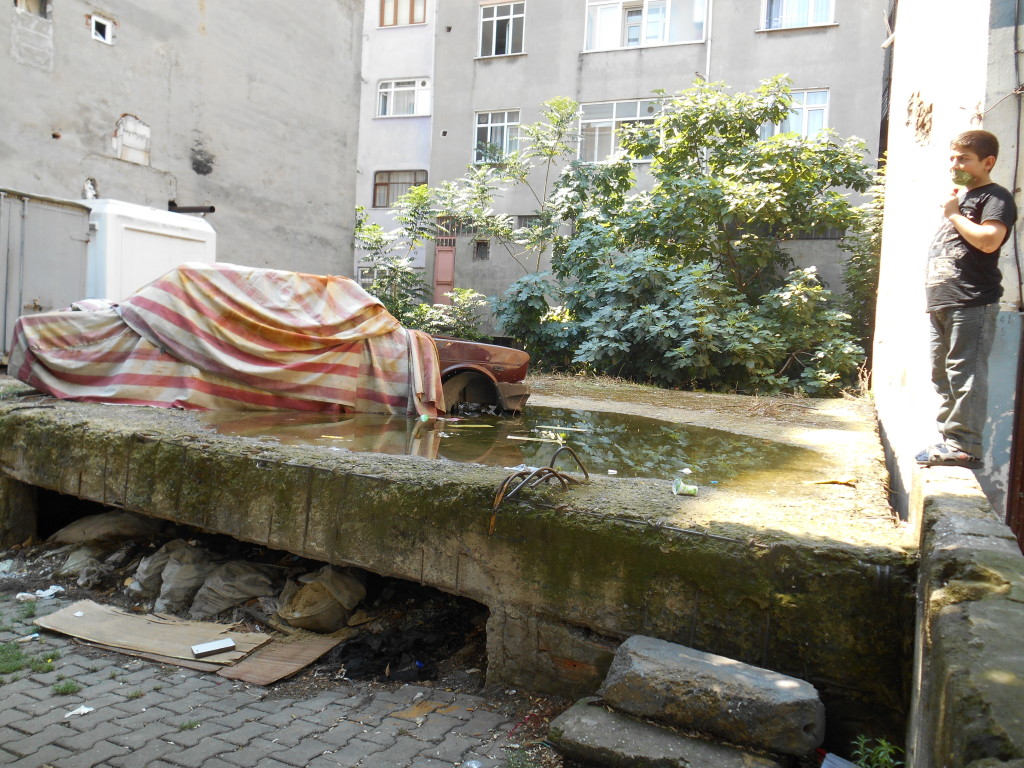 The run-down Okmeydani neighbourhood is home to members of Turkey's minorities – Kurds, members of the Alevi sect, recent immigrants from central Asia and Africa.
Here the police are more aggressive, chasing me and my companions, Ugur and Ilyas, off the premises of one school where voting is taking place.
Ihsanoglu has supporters among the Alevi, who feel that Erdogan has stirred up Sunni Muslims against them, while many Kurds back left-winger Selhettin Demirtas.
Some of the Alevi accuse Derirtas of being prejudiced against them, an accusation that Ugur says comes from the Ihsanoglu camp.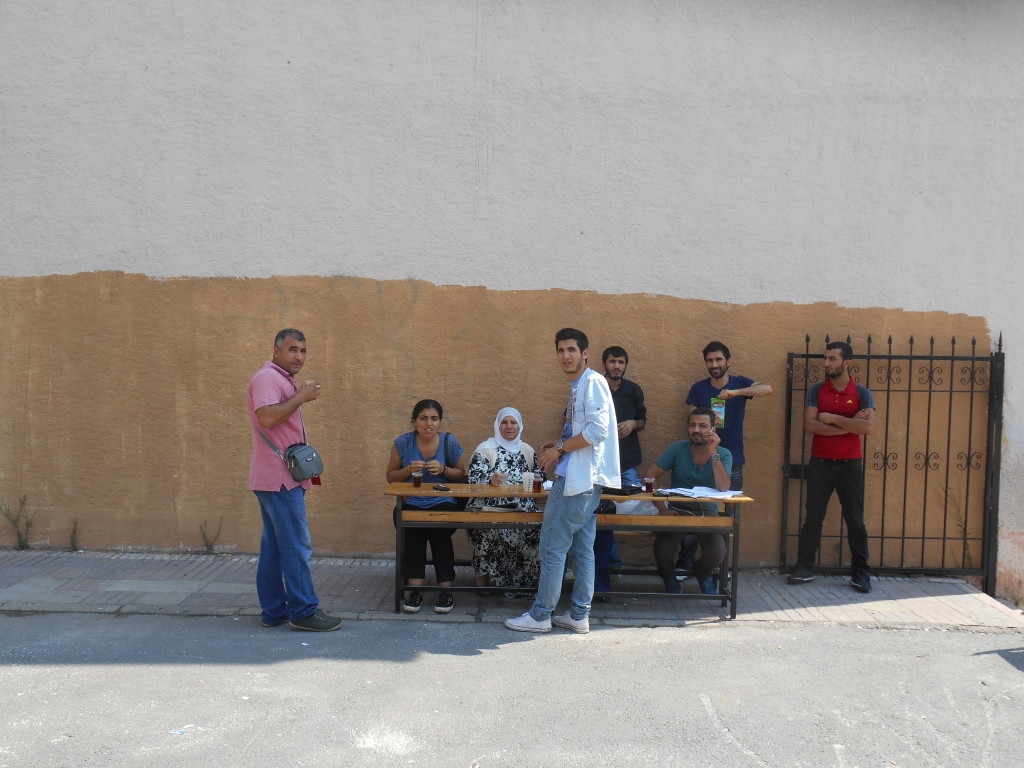 His party, the HDP, has a stall manned by volunteers, mostly young although housewife Maryam must be twice the age of her coworkers.
"I am here for peacs the interview is taking place, demanding the identity papers of all the activists and telling them they must pack up their stall.
"The police said they were Kurdish too," HDP member Aytan says afterwards. "They were talking the Kurdish language with us. They sell their honour in working for the state. We have advice for such people, 'Police sell simit (cakes) and live honourably.' "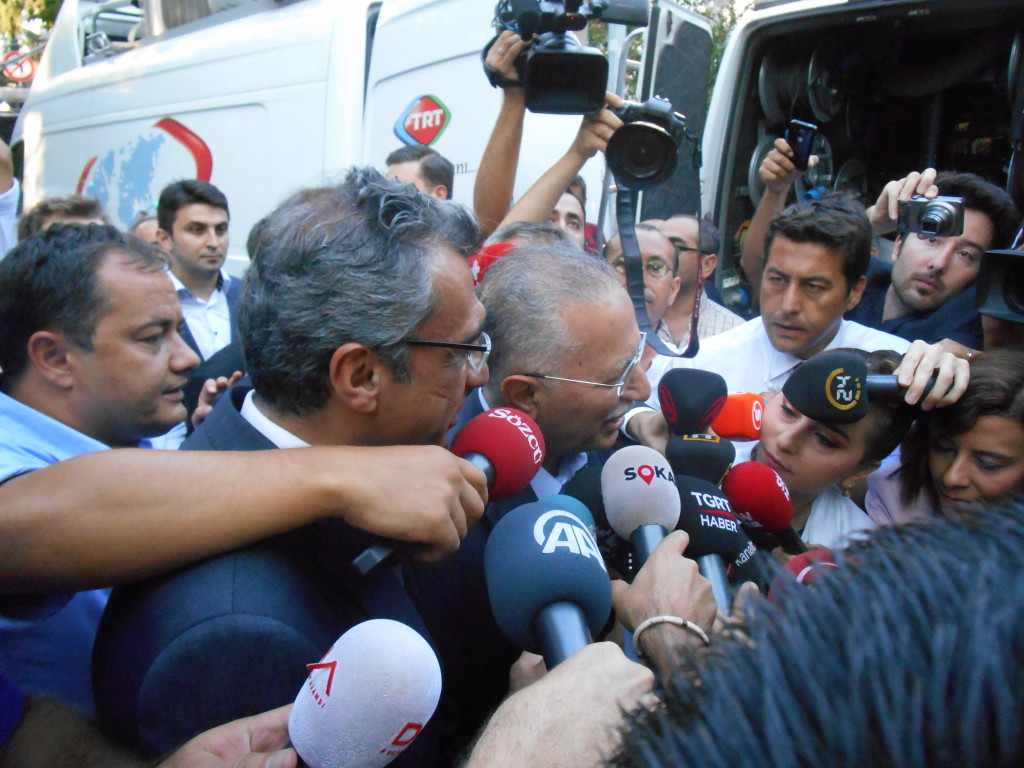 On the outside chance that we might snatch an interview with the only candidate who speaks good English, we wait for the result outside the Ihsanoglu headquarters, where a gaggle of cameras point at a podium from which the candidate is expected to address the media.
It's a long wait, during which I meet Koray Caliskan, a professor I enjoyed interviewing in 2007 and who I am surprised to learn is now moving in CHP circles, given how critical of the dogmatism of the Kemalists on questions such as the headscarf back then.
His clothes seem to have taken a step up the career ladder, too, but he's still very friendly.
When Ihsanoglu finally arrives there's a scrum in which I almost lose my mike but his only message, affably delivered, is that it's too soon to comment.
Despite biscuits and sandwiches provided for the press, we eventually give up.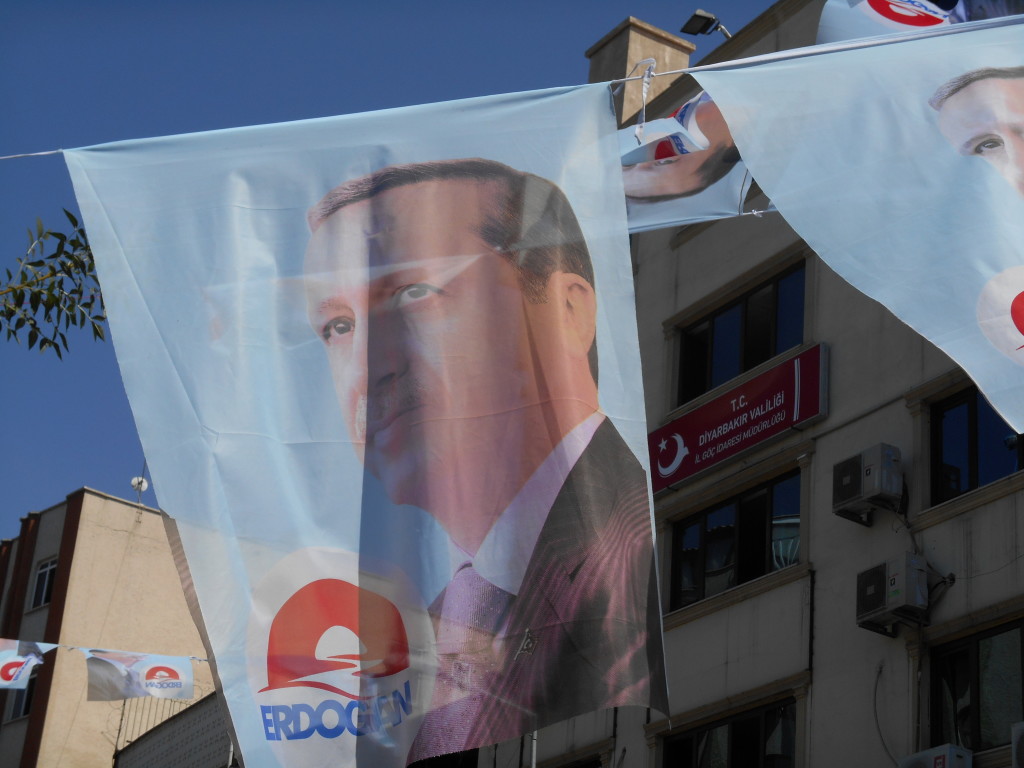 Erdogan has won. With 52% of the votes, compared to Isahnoglu's 38.3% and Demirtas's 9.7%.
After learning of his victory he went to pray in the Eyüp Sultan mosque, built after the 1453 conquest of Constantinople by the Ottomans, and the place where the Ottoman sultans were crowned.
He then flew to Ankara to meet his ecstatic fans,
"I will not be the president of only those who voted for me, I will be the president of 77 million," he told them from the balcony of AKP headquarters.
But his idea of uniting the country seems to involve the opposition falling in line behind his agenda.
He called on them to "review their policies" to make them compatible with his "new Turkey" ideal.
"Those who accuse us of one-man rule … should please question themselves sincerely," he said, an appeal that is likely to fall on deaf ears.
Erdogan can have two terms as president, meaning that he could remain at the head of the country until 2024, allowing him to preside over the centenary of the foundation of the Turkish republic in 1913.
He hopes to strengthen the presidency and is likely to succeed in that task, having purged much of the state apparatus of opponents afer falling out with US-based cleric Fehtullah Gülen, whose supporters appear to have been behind the leaks of evidence of corruption in his family and entourage.
And soon, as president, he will appoint new members of the constitutional council, further consolidating his power.
That election is likely to be brought forward, meaning another no-holds-barred election campign.
The largest opposition parties, the CHP and the MHP have suffered a severe blow in failing to force Erdogan to go to a second round.
Their morale was low ahead of the election result but may have received a small boost from the fact that opinion poll predictions of an Erdogan win of 58% or more proved excessive.
Demirtas's vote was higher than the HDP has ever won under any of its previous names.
Meanwhile, Turkey must find a new prime minister and the AKP a new leader, since the constitution stipulates that the president must not be a member of a political party.
Foreign Affairs Minister Ahmet Davurtoglu is tipped as the most likely new premier, although Transport Minister Binali Yildriim's hat is also in the ring.
Outgoing president Abdullah Gül can now return to party politics but there is speculation that economist Numan Kirtulmus, not currently an MP, may be brought in to head the party.
The AKP being a coalition of religious conservatives, business interests and political right-wingers and not immune to personal rivalries, divisions may appear in its ranks.
Its Islamist predecessors have always relied on a strong leader, which is also much of Erdogan's appeal, and broken up when the leader exits the scene.
So, despite a conclusive presidential election result, a return to the turbulent normal for Turkish politics is on the cards.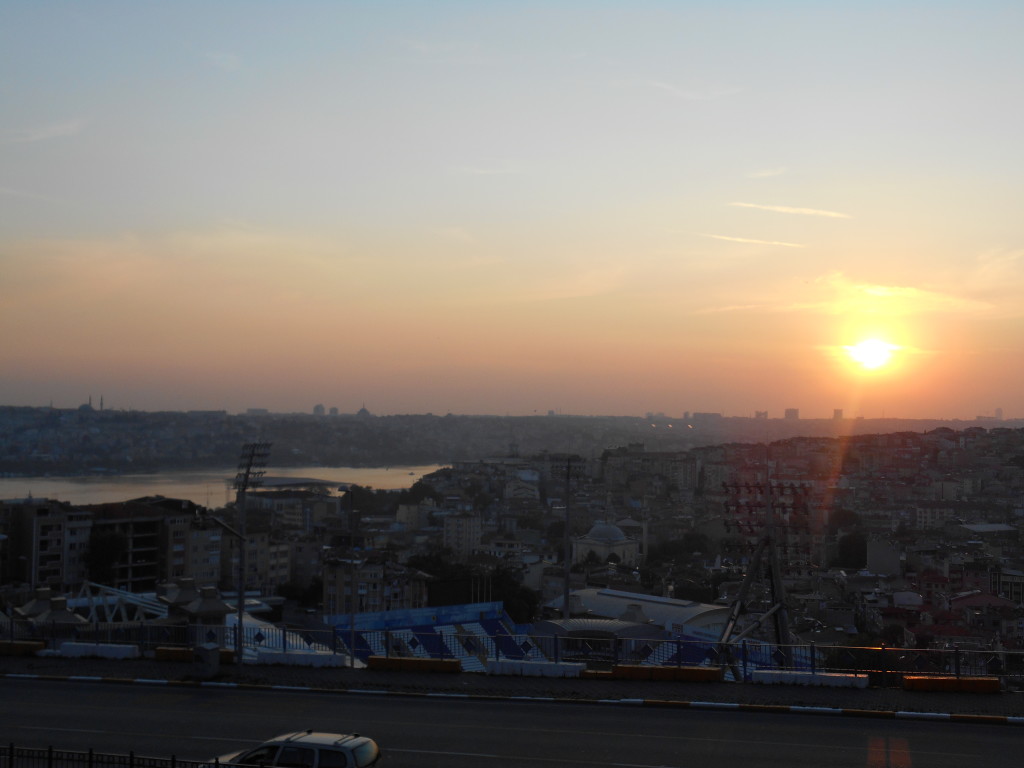 Victory is no sooner announced than crisis comes knocking for the AKP.
Erdogan, who must resign from the party to become president, makes no secret of his wish to keep a deciding influence on it and, apparently impressed by Russian President Vladimir Putin's arrangement with Prime Minister Dmitry Medvedev, wants replacement who will be very much under his shadow.
Foreign Affairs Minister Ahmet Davurtoglu seems to fit the bill, although Transport Minister Binali Yildirim's name has also come up.
Erdogan also wants to keep tight control of the party.
But, as Erdogan's supporters were recovering from the victory party, Gül, who cofounded the AKP with Erdogan, announced that he would be rejoining the party when he quits the president's job and there is little doubt that he would seek the party leadership.
Later in the day the party's executive then announced that the special conference to choose a new party chief will be held the 27 August, the day before Erdogan is sworn in, meaning that Gül will still be barred from party membership, unless he resigns early and that may well be his next move.
Not everyone in the AKP is happy with Erdogan's plans to run the party by remote control and Gül may be able to muster significant support for a leadership bid, which could even become a stepping stone to the premiership if he returns to parliament after the next election.
The former comrades-in-arms are believed to have had their differences over recent years.
When the government tried to ban the use of Facebook and Twitter during anti-Erdogan protests last year, he declared that he would continue to tweet.
The brewing crisis is not a good sign for a party that will soon have to fight a general election.
Nor does it bode well for Erdogan's plan to strengthen the president's powers.
To do that he must change the constitution, which would require votes in parliament than the AKP can currently muster even if it remains united.
He may hope that an early general election will bring more MPs, although his own election win was less convincing than some polls had predicted, a result that weakened his standing in the party.
If there's also a revolt in the AKP that could mean electoral victory leads to political crisis, undermining Erdogan's enormous ambition and even giving new heart to his depressed and demoralised opponents.
Read my reports of the 2014 election on RFI's English-language website